Winning in Tendering Project Manager Interviewed on BBC Radio Wales
On November 8th 2012, Winning in Tendering Project Manager Gary Clifford was invited by BBC Radio Wales' Wales at Work programme to discuss the latest figures relating to Wales' public expenditure.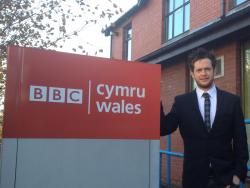 Gary Clifford, Winning in Tendering Project Manager, outside BBC Wales' Offices
Gary Clifford was interviewed by the BBC's Business Correspondent, Nick Servini, at the start of the programme. The story emerged following the news that just over 40% of the value of Welsh Government contracts for goods and services went to Welsh companies for the financial year 2010 to 2011. The exact figure is 41% - a £193 million slice of a possible £471 million. On average, 52 % of all public sector contracts awarded in Wales go to Welsh firms. Gary was asked to comment on whether these figures were good enough at a time when many firms rely on public sector contracts. He was also asked why Welsh companies were not winning more of these contracts.
In his opening address, Gary referred to how Welsh businesses are currently missing out on approximately one billion pounds' worth of contracts, owing to a lack of open, transparent procurement for below threshold contracts. He said: "the McClelland report estimates that from the £4.3 billion public expenditure in Wales, £3.2 billion was advertised – by law – via Sell2Wales and the Official Journal of the European Union, and a further £274m was advertised sub-Official Journal (i.e. low value procurement) on the Sell2Wales website. However, there is still approximately a billion pounds missing. Where is this? We suspect that not all public authorities are advertising above the threshold, and are instead using a much higher European threshold as the benchmark."
In referring to what could be done to improve Wales' current procurement situation, Gary commented that "opportunities need to be advertised and made transparent so that the public sector obtains better value for money, and suppliers are given the opportunity to either succeed, or improve". He explained that Wales could improve its current situation by utilising the various different support services, such as the Tender Review Service and the Welsh Government's Supplier Development Service.
Gary also commented on how the key to Wales' success was for public organisations to plan contract opportunities, and advertise them well in advance; for the Welsh Assembly Government to compel all local authorities to openly advertise all contracts valued at £25,000 or more; and finally for the WAG to encourage and support entrepreneurs to start up businesses so as to fill Wales' supplier voids.
This latest invite by the BBC for an expert from Bangor's Institute for Competition and Procurement Studies (ICPS) to appear on their shows follows Professor Cahill's appearances firstly on BBC Radio Wales, and secondly on BBC1's Dragons Eye earlier this year. Such requests by national broadcasters are testament to ICPS's growing prominence as a centre of National, European and International expertise in evidence based procurement research.
Publication date: 28 November 2012