"Wood isn't good – it's brilliant!"
BEACON hosts Green Building Materials Seminar for the Welsh Construction industry.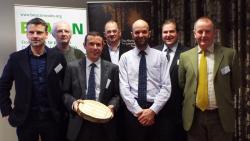 Andrew Mitchell, Natural Building Technologies; Dave Jenkins, Coed Cymru; Dr Adam Chalrton, Biocomposites Centre (BC); Graham Hilton, Alliance for Sustainable Building Products; Gary Newman, Plant Fibre Technology; Dr Robert Elias, BC, Dave Edwell, NRW.Over 50 delegates attended a seminar at Bangor University recently, which focussed on helping Welsh businesses to work with and produce innovative and energy-efficient building materials.
We all need to extract more value from our natural resources and nowhere is this need more relevant than the resource-intensive construction industry. Being able to use products and materials more efficiently will not only help our planet but our bank balances as well.
The free seminar was arranged in order to showcase the leading examples of the how companies are using sustainable Welsh resources in construction and to further discussion into new ideas for plant based products. It was hosted by BEACON and the Alliance for Sustainable Building Products. Beacon is a 5 year Regional Development Fund (ERDF) and Welsh Government funded collaborative initiative focussed on bioirefining. The collaborative partnership involves Aberystwyth, Bangor and Swansea Universities. The Alliance for Sustainable Building Products is an organisation dedicated to the identification and use of more sustainable construction products.
Presentations at the half day seminar were given by academic and business and included a presentation by Welsh company, Coed Cymru, on building with low density soft wood which is easy fast and sustainable to grow. Natural Resources Wales (NRW) gave the audience information on how good construction will be saving energy in the future and help to reduce our carbon footprint in the years ahead. NBT (Natural Building Technologies) described how they are working with sustainable products and construction techniques and the benefits that are already being seen from using this technology.
Adam Charlton, Beacon's Project Manager, based at Bangor University, who organised the event said:
"I am really pleased that so many local Welsh businesses attended the seminar. The presentations were all very well received and have sparked future collaborations. We are delighted with the interest and enthusiasm we have received following this event and look forward to arranging more sector specific events in the near future.
The aim of the project is to establish Wales as a global Biorefining Centre of Excellence, through the development and commercialization of new innovative products and applications, derived from a range of plant biomass. This is achieved by developing biorefining knowledge, capability and expertise in a range of feedstocks, processing systems and conversion technologies.
BEACON is interested in interaction and collaborative research with a range of micro businesses, start-up companies and SMEs, active in the bio-economy in Wales. Markets sectors ripe for development include natural cosmetics, agriculture, forest and natural products, natural fibres, health and medical, bio-based polymers, nutraceutical and pharmaceutical. Eligible businesses can receive free business support from BEACON. This free support includes access to a range of pilot-stage equipment and expertise from scientists for research and development work.
Further information can be found on the BEACON website
Publication date: 7 January 2014