Work on novel proteins has potential to suppress cancerous tumour formation
Dr Chris Staples, of Bangor's North West Cancer Research Institute in the School of Medical Sciences has recently published an article in the prestigious scientific journal "Cell Reports" on the identification of a novel potential tumour suppressor. Chris is working on several novel proteins, which prevent accumulation of DNA damage in human cells, and thus potentially suppress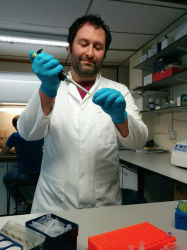 tumour formation with exciting implications for developing new and effective treatments.
Chris also works on ways to sensitise cancer cells to chemotherapy by developing novel compounds to inhibit DNA repair, and studies the interface between DNA repair mechanisms and other important cellular functions. Chris has recently had funding from North West Cancer Research and the Life Sciences Research Network Wales, totalling £376,000, supporting one PhD student and two postdoctoral scientists to further his work in these areas.
Talking about his work Chris said " I am really excited about the projects underway in my lab – knowing how cells repair DNA is crucial to our understanding of tumour biology, and the strategy of targeting DNA repair could eventually offer hope to many cancer patients. I'm delighted to have started my lab here in Bangor – the working environment is excellent, and my family have fallen in love with North Wales! "
Dr Staples' post at Bangor University is supported by funding from Health and Care Research Wales, as part of the Wales Cancer Research Centre.
Dr Edgar Hartsuiker, Group Leader at the North West Cancer Research Institute said "Building on previous successes of the NWCR Institute, this successful application to Health and Care Research Wales allowed us to recruit Dr.Chris Staples, who then published his ground breaking article in Cell Reports, and also successfully applied for additional funding. This is an excellent example of how external funding seeds a significant increase in our research capacity."
Publication date: 10 October 2016