Contacts
Location
Penbre, College Road, Bangor, Gwynedd, LL57 2DG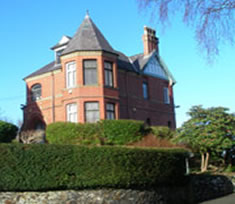 Penbre is directly opposite the entrance for the Main Arts car park in a red brick building.
Map
View a map of our location here.
Map of the whole campus
View a map of the whole campus here.
Gwenan Hine, Deputy Secretary / Head of Governance Services

Gwenan leads Governance Services. She has specific responsibility for governance and management, information governance and compliance, data protection, freedom of information, safeguarding, Prevent, police liaison, emergency management and managing the University's legal services framework. She takes a lead in providing advice and guidance on legal and policy compliance across the University and acts as the University's Data Protection Officer, Freedom of Information Officer, Safeguarding Officer and Emergency Manager.

Lauren Roberts, Incident Management Assistant
Lauren supports Gwenan with all aspects of the University's emergency management framework and also supports wider incident management functions. This includes liaising with North Wales Police, and other agencies and also being the Single Point of Contact for all law enforcement related enquiries including being the point of contact for the University's Police Community Support Officer. Lauren also supports Gwenan with safeguarding issues, including delivering the requirements of the Prevent Duty. In addition Lauren assists Steve with aspects of his portfolio, in particular in relation to student complaints and disciplinary issues.
Anita Thomas, Legal and Compliance Manager

Anita manages the legal and compliance team within Governance Services. She has specific responsibility for contract management and legal services, including the development of a legal advice library. Anita provides assistance for Gwenan with requests for legal advice from staff. Anita also oversees the University's response to information requests under the Data Protection and Freedom of Information Acts which is managed on a day to day basis by Lynette. In addition Anita manages the University's response to consumer marketing legislation and provides advice and guidance to staff on all aspects of consumer marketing.

Lynette Williams, Legal and Compliance Assistant

Lynette provides support for Governance Services with all aspects of compliance activities, and, in particular is responsible for the day-to-day management of freedom of information and data protection requests. She also manages the University's records centres. Lynette works part-time for the Office and is available on Mondays and Tuesdays, and Wednesday mornings.
Marina Margulis, Commercialisation Assistant
Marina supports Anita in providing a responsive and flexible contract management function, especially around commercial and research contracts. In particular, Marina provides direct support to researchers and other University staff in need of Confidentiality Agreements, Consultancy Agreements, Studentship Agreements, Materials Transfer Agreements and/or other contracts relating to the commercialisation, research, impact and innovation activities of the University.
Colin Ridyard, Senior Research Governance and Policy Officer
Colin is the University lead on modernising and updating research governance and ethical processes, providing advice and developing guidance for Colleges on ethics, research ethics, research governance and integrity issues. Managing the University's research relevant licences in relation to the Human Tissue Act and the Animals (Scientific Procedures) Act, Colin is also responsible for managing the University's corporate policy framework and ensuring all policies meet the needs of the strategic aims and objectives of the University and are all aligned with the University's Strategic Plan. Colin is also responsible for managing the University's academic regulations, codes of practice, and procedures. Colin is Secretary to the Senate Regulations and Special Cases Committee
Steve Barnard, Senior Student Conduct and Complaints Officer

Steve has specific responsibility for managing the University's procedures for student discipline, student complaints, unfair practice, fitness / suitability to practice and student appeals. Steve is also responsible for training and development in relation to the University's emergency management procedures.  Steve also consults with the Students' Union on all aspects of his portfolio.