Deepening in Being the Teacher
by Rebecca Crane
In June 2018 Trish Bartley and I, Rebecca Crane will be co-leading a five day residential training retreat for experienced/established mindfulness-based teachers. We will be settling into the beautiful and supportive context of Trigonos in North Wales to step back, reflect and deepen into our practice and our inspiration for our work in the world. This will be a shared process enabling us all to take stock, renew, and strengthen connection with others doing similar work.
It is the first time we have offered this event. We are responding to a need that many of you have expressed for a space that bring together teachers who have been doing this work for some years to draw nourishment and share perspectives from each other. An opportunity to connect into our own practice, and from this place to share and learn and renew vision about what and how our work can offer the world.
The societal context for our work just now is challenging – with pressures on funding, increasing levels of disconnect between groups of people, climate change, a tendency to polarise around complex challenges and more. The mindfulness movement is unsurprisingly not immune to these tendencies prevalent currently. Indeed, there has been much concern expressed about mindfulness being co-opted into a neoliberal paradigm.
Conversely there are seeds of something different emerging – a movement towards beauty, connection, compassion and wisdom. More than ever it seems critical that we turn towards the challenges we are facing – the way in which the default human way of seeing experience leads us to suffer and inflict suffering on others and our environment. If we are to flourish as a species our main hope seems to be becoming more skilful at understanding and fully inhabiting our own body-minds.
How do we situate our work in the midst of the time we find ourselves in? How do we remain connected to a place and a path that frees us to contribute in ways that are optimal for the energies, talents, contexts and circumstances we each find ourselves in? How do we do this in ways that are sustainable for ourselves and the world? These are very personal inquiries – and we cannot do this alone – so connecting with others seems essential in discovering some grounded wisdom around these questions.
We hope you will join us. More than ever we need each other to sustain ourselves and our work. Read the descriptor and see if it calls you. You will see that our learning intentions include refreshing intention, deepening practice, connecting with our community, strengthening our teaching skills, supporting and sustaining ourselves, exploring our everyday lives and work, and supporting the work of implementing mindfulness-based approaches in the mainstream. These are our starting themes – how they come to life will depend on what we co-create together.
With warm regards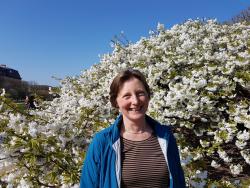 Rebecca Crane
February 2018
Publication date: 6 February 2018