Life Journeys, Gratitude and Serendipity by Rebecca Crane
I recently made a trip to the States. The main reason was to connect and spend time with Ferris Buck Urbanowski. Ferris was a seminal teacher for myself and for several others of us within the Centre for Mindfulness Researchand Practice (CMRP). Over the last 10 years she has been working with significant health challenges caused by repeated brain tumour growths on the surface of her brain. She has now lost her senses of sight, smell and taste and is living with significantly depleted energy and some cognitive changes. She had hoped to travel to Wales for a farewell trip, and we had put arrangements in place to welcome her, and to have a gathering at Trigonos of those of us who had connected with her in the early days of CMRP during the late 1990s and early 2000s. However, it became increasingly clear that it wouldn't be feasible for her to travel. The group still met at Trigonos as planned in a small retreat led by Mark Williams. Simultaneously, I travelled to Vermont to spend time with Ferris and to support her to call in by video link to the retreat space in Trigonos. It was a moving experience for all of us to connect together across the Atlantic, to be with Ferris, to be reminded of our early inspiration for coming together as a group, and to be reminded of Ferris's extraordinary capacity to embody ferocious compassion, courage and clarity.
During the early stages of developing Mindfulness-Based Cognitive Therapy (MBCT) in the 1990s, Mark Williams, Zindel Segal and John Teasdale made several trips to the Center for Mindfulness, USA. It was during this time that Mark made a link with Ferris and invited her to come over to Wales to guide us in a retreat. We chose an extraordinary location for this seminal gathering of MBCT teachers and researchers - Bardsey Island. It is a small island in North Wales which has been a place of pilgrimage since the 13th century. Through the centuries it has posed enormous practical challenges to pilgrims – and even now continues to keep visitors in a place of uncertainty. The boat journey is strongly dependent on weather and tide conditions. Travellers need to bring all provisions for their time on the island and step back into a world of no electricity, running water or phone signal. Perfect conditions for deep work. Ferris made a short film recently in which she recounts some of this experience of journeying to Bardsey.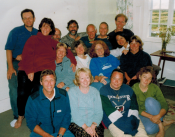 Ferris with the 1999 Bardsey retreat group – 6 of the CMRPs Core Training Team were part of this group
A year after this retreat on Bardsey, in the summer of 2000 I undertook the intern training in Mindfulness-Based Stress Reduction at the Centre for Mindfulness, UMASS, USA. I was expecting my third child and travelled with my husband and our 3 and 6 year old children. Ferris generously made her New Hampshire house available to us for this time. It was quite an adventure. The house is off grid, tucked deep in remote woodland. To get to it we drove off the main road along a dirt track, parked up, then paddled across a lake in an open canoe, then walked up through the woods to the house. It was a time of extraordinary learning – participating in several MBSR classes each week and in live explorations of process with my teacher Melissa Blacker, and then back with the family, being thrown together into this different place and way of being. All my assumptions and established ways of being were brought into the light of awareness. Not always easy – but certainly enlivening and deeply engaging.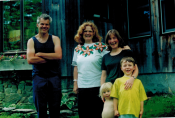 Rebecca and family with Ferris, New Hampshire, 2000
My son who turned 6 while we visited Ferris in Vermont that summer formed a strong connection with her. She has nurtured the connection in a grandmotherly way over the years. By a strange piece of serendipity he was travelling in the States last year at the time when Ferris's vision was finally lost. He ended up staying with her as her carer during those difficult transitional months as she found her way with a new reality. The time has been a gift for them both in very different ways. It was moving for me to connect with Joel and Ferris together in one space during my recent trip.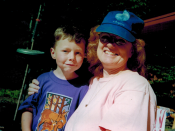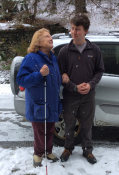 Joel and Ferris in 2016 and in 2000
This period has brought forth much gratitude for the generosity of Ferris's presence in my life. I certainly would not be doing the work I am doing now without the inspiration of her teaching, friendship and support over the years. I doubt that CMRP would have come into being in the way it did. And of course Ferris herself has a myriad of teachers and influences in her life which have enabled her to step into the teaching in the ways she did – Jon Kabat-Zinn, Zen Master Seungsahn, and I am sure many others.
Many people ask me how I came to mindfulness and this recent period of looking back at Ferris's influence and the roots of CMRP has awakened this question in myself again. I never know how far back to go in endeavouring to answer it, but there was one tangible moment during my teens when my father and I joined a weekend introduction to Buddhism course. Music was an important part of my life in those years and I was particularly touched to discover that our teacher for the weekend was my very own music teacher from my school. I hadn't realised that she lived within a Buddhist community. She was a great story teller. One story particularly stuck. She told of a recent day when she and her Labrador dog had taken a walk together down to the sea. It was an exquisite June day – clear skies, warm air, gentle breeze, vibrant light. They were revelling in the joy of being outside in this all-encompassing beauty, when suddenly the moment turned. As the dog bounded joyfully he caught his leg and paw on some jagged glass that had been left on the beach, was injured with a deep gash, and started to bleed profusely. Here writ large was an example of the fragility of our lives – how pleasure and pain intermingle beyond our control. Crucially for me as a teenager, the insight came that it isn't my fault that things are this way. I had somehow imbibed a message that I needed to work hard, to be in control, and to do my utmost to steer my life and the lives of those around me towards positive outcomes. Mindfulness wakes us up to our habits and biases – this was one particular pattern of that moment in my life! I was intrigued by these teachings that seemed to make so much pragmatic sense. I was less sure about the need to sit quietly with myself which seemed to bring discomfort into uncomfortable focus!
The following year when I was 17 I went on a 3 week trip to India with a small group from our 6th form led by a brave religious studies teacher, Ken Oldfield, who was another of those deeply influential people in my life journey. It was another time of having my assumptions blown open. We travelled in remote villages in Rajasthan following leads made by Ken during his previous time in India researching the Jain religion, practices and people. Travelling in India was full on - it stretched every dimension of my being. Intrigued by how the people and place had opened me in ways I didn't know were possible I set in place plans for a longer trip on my own when I left school a year later.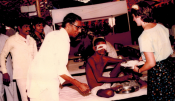 Rajmalji and Rebecca, eye camp, Rajasthan, 1983
I looked back recently at my journals from the eight months I spent in India when I was 18 and was amazed once again by the density and richness of the experiences that unfolded. I was naïve enough and curious enough to say yes more often than no when opportunities came my way. One highlight was several months of volunteering in Rajasthan for a health care organisation set up by an extraordinary man – Rajmal Jain - to bring health facilities to remote regions by setting up camp in villages – eye camps, dental camps, TB camps, disability camps, animal care camps etc. I lived with the Rajmalji's family. He was the youngest son of a successful business family and had been assigned the role within the family to bring services to their home area, whilst his two older brothers kept the family business thriving in the city to supply the funds for the activity. They were an embodiment of joyful, selfless public service, and of living in accord with deeply held values. Another highlight was attending a series of lectures by Krishnamurti in Bombay whose teachings pierced into me with a startling directness. Throughout the trip, I was touched so many times by the people I connected with who embodied generosity, equanimity, simplicity and joy frequently in the face of deep adversity.
When I came home from India, I embarked on Occupational Therapy training in Oxford. Early on in my time there I signed up to 'Oxford Aunts' - an organisation which connects students who are willing to do some work with people wanting babysitting, cleaning, shopping etc. My first assignment was a cleaning job. It turned out to be one of the faculty from the religious studies department. In another serendipitous moment, they had staying with them a Thai Buddhist monk. I was introduced to this golden robed presence – Mettanando Bhikkhu – another influential teacher in my life! I naively shared with him that I had a wish to learn to meditate. It turned out that he had just arrived in Oxford to study the Pali scriptures which are stored within the Bodleian Library for his PhD. He invited me to come and take meditation lessons from him. So during my Oxford time I had this extraordinary opportunity to engage in regular systematic meditation instruction, and then after I graduated, I travelled to Thailand and spend some months practising intensely in his root temple.
Ten years later, the next piece of serendipity was that I was living and working in North Wales when Mark Williams began his MBCT development process. That happened because my husband loves to climb mountains and so had chosen Wales as the place to settle for his first teaching job. I followed and joined him some time later. It was extraordinary for me to discover that my mindfulness practice which was at the heart of my life, could come out of the closet and become an explicit part of my clinical practice and working life. It is amazing now to be living a vision that we barely dreamt of in those early days – that mindfulness practice could indeed become a common sense part of mainstream public life.
So thankyou Ferris and others who have held the flame of inspiration along the way. There are of course many other unnamed but very significant teachers, colleagues, family, friends and other influences which have shaped my learning. The interconnections, twists and turns in our learning journeys are indeed too complex to track completely. But it is certainly true that we are constantly touching and being touched by each other and that deep interconnection is the natural order of things. I am glad of this and look forward to the ongoingness of it!
Rebecca Crane
March 2016
Publication date: 13 March 2017