New Book Release by Sholto Radford: Walk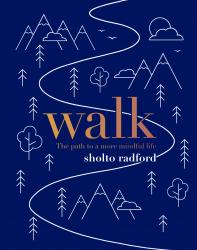 I am excited to announce the release of my book "Walk". Walk is a practical guide to developing mindfulness and wellbeing through walking and spending time in the natural world. I share many of the practices and approaches that I have found helpful and have used in guiding mindfulness walks and retreats with Wilderness Minds in Snowdonia. Much of the book was written this past Spring and Summer while living out in the Pacific Northwest and I hope some of the beauty and wildness of that landscape has also crept into it's pages.
The approach has also been heavily influenced by my time spent working and learning through the Centre for Mindfulness Research and Practice and I would like to thank everyone there who has helped me with my practice and supported me with teaching.
Walk is artistically illustrated and comes in hardback, it is published by Quadrille and is available on Amazon as well as most good bookstores in the UK. It is Also available in Germany, Australia and the USA.
Link to Amazon RRP £7.99 currently available on Amazon for £5.59
Publication date: 17 January 2018