As Bangor University celebrates 100 years of music -making and Bangor University Symphony Orchestra and Chorus prepare for their next concert on Sunday 27 November, current members of its 50 strong Chorus have been sharing the benefits of coming together to sing on a regular basis.
The Chorus is international in its nature, with both the students and members of the local community who take part coming from all over the world – current membership represent Wales, England, Scotland, Ireland, Poland, the Seychelles, Trinidad, Germany, France, the USA, Japan, Greece and Italy.
With members coming from all walks of life, of all ages and all kinds of different backgrounds, it is an inclusive chorus with the common denominator being the pure joy of singing and music-making.
But coming together to sing brings many other benefits, according to members: making friends, as a relaxing break from studies and also the opportunity to sing with the orchestra, that in turn brings very real mental health benefits.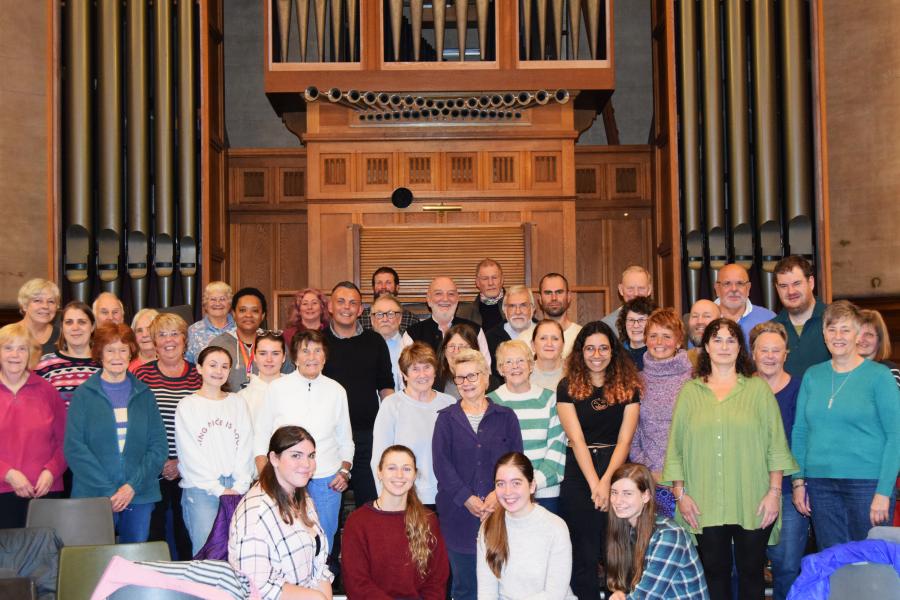 During a rehearsal one member of the orchestra remarks quietly, "I lost my husband unexpectedly last year. I thought I'd never feel like singing again. But I had friends here, and I kept on coming. It's really helped me get through it."
The chorus are currently busy rehearsing every Wednesday evening for their next concert alongside the Bangor University symphony orchestra and local choir Cantorion Menai in Prichard-Jones Hall on 27 November, which will feature composers closely connected with Bangor in one way or another.
The programme includes work by the first Director of University Music in 1912, E T Davies, Dilys Elwyn Edwards, John Hywel, Caradog Roberts and William Mathias, and will be led by the university's current Director of Music, Gwyn L Williams and Leader Chris Atherton, with solos from soprano Sioned Terry, the tenor Robyn Lyn Evans and baritone Jeffrey Williams.
There is something very special about designing a concert programme entirely of works of music by Bangor composers.   The University has a long and distinguished roster of composers who have worked in the Music Department - it still does.  What Music at Bangor does really well is to engage so comprehensively with its community. Both orchestra and choir are deeply rooted in the city and further afield.  They comprise students and staff, but also musicians from as Llandudno, Colwyn Bay and Wrexham.  In fact, the chorus is joined on this occasion by Cantorion Menai from Anglesey, which emphasises the strong connection Bangor University has always had with the island, and also the Cathedral Choir which has developed a very strong relationship with the Department of Music."