A green university choice
With many young people wanting to reduce their environmental footprint, students looking for a 'green' university can be assured that if they choose Bangor, they will be studying at a university which is word-leading for its commitment to recycling and sustainability.
Not only was the University recently placed 7th in the world for recycling and sustainability, measured against the United Nations Sustainable Development Goals, the north Wales institution is also ranked 10th in the world for its green credentials according to the Green Metric World University Rankings.
But what does this mean in practice?  As well as knowing that the university is doing its utmost to reduce its waste and its energy consumption, and working towards and achieving other sustainability goals, students can get involved in various University and Students Union led initiatives. They can contribute to University policies through taking part in Sustainability Think-tanks organised by the University's Sustainability Lab, and can take part in numerous sustainability campaigns and activities from the Students' Union to opportunities to garden, litter-pick or other 'hands-on' activities from the university.
Here's what some current students at the University have been doing:
Jolie Moon, a 3rd Psychology student from Preston, Lancashire is a project leader for the Students' Union Beach Clean Volunteering Project which travels to local beaches through Gwynedd and Anglesey collecting and recycling the litter left behind or washed up by the tide.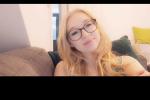 Jolie MoonJolie said:
"The project is very popular with over 400 Bangor University students signing up to take part and full buses travelling out on our monthly events. This project is an opportunity for students to connect with other like-minded people, explore the beautiful beaches around Gwynedd and get involved with the local communities, all whilst having a positive impact on the environment!
Patrycja Bialecka, a second year Zoology with Animal Behaviour student from Eastleigh, Hampshire, said:
"I've taken part in beach cleans, donated to organised clothes swaps and now been allocated as the sustainability officer for the Healing Garden, where we have sustainably sourced materials to build a wonderful sensory garden. I can't wait to continue their work next year.
Taking part in these activities are really important to me as I try to be as zero waste as possible to minimise my impacts on the environment.
The university has really helped me do this, not only through the events they hold but through the resources provided like the teracycle bins in the SU, food waste bins in many university buildings and water fountains. This wouldn't be possible without the university giving its students a voice over the actions occurring at the university."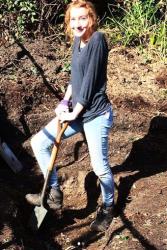 Emily Davies a third year Zoology and Animal Behaviour student from Ashford, Kent said:
"I've had the pleasure to be involved in multiple environmental and sustainable student-run projects whilst at university, from supporting conservation with the local Wildlife Trust, to maintaining both the University's Botanic Garden and the Student run allotment. I have also had good experiences with the Plastic Free Bangor campaigns of the academic schools and the SU, as well as the food reduction schemes with the Sustainability Lab. The Student-run Healing Garden even received a CLAS Green Impact award, for our year of sustainable and wildlife-minded gardening. We have also composted excess food waste from the local Plaid Cymru food bank, as well as donated our harvests! I am graduating this year, but I am thankful for every opportunity the University has provided me to contribute to a greener world."
Virginie Rouillard Le Court de Billot from Grand Bay, Mauritius is studying a PhD in Climate Change Laws and says:
"I have been concerned about environmental issues and sustainable living since a young age as I am from Mauritius, where we can already observe the effect of climate change.
T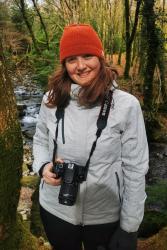 Virginie Rouillard Le Court de Billothrough projects managed and supported by the Students' Union, I have been able to be more involved in promoting food sustainability through the Hungry Dragon volunteering project. The Students' Union has helped the project expend its reach beyond the University into the local community, increasing the awareness on food waste and promoting sustainable food use, which plays a critical part in the current environmental problems.
I feel that Student Union and University encourages and provides the means for the students to undertaken positive initiatives to create projects related to environmental conservation and development of sustainable alternative to excessive consumerism. I will be staying for a few more years to pursue my PhD in Climate Change Laws and I am really looking forward to continuing working with the Student Union!"
Lucy Wiltshire, a 4th Year Human Geography student from Plympton, Plymouth has been acting as a project leader for Student Volunteering Bangor. This involves managing two local nature reserves on the edge of Snowdonia National Park as part of an enthusiastic team of volunteers acting in partnership with Gwynedd County Council, helping to maintain the green spaces for members of the public and conserve native habitats.
She says:
"Having a hands-on involvement in conservation projects is such a positive experience. Not only beneficial for the stewardship of our local environment, this opportunity additionally helps to build connections with students throughout the university and local community. Thanks to projects such as this the Student Union is able to foster inclusive sustainable practices."
Third year Natural Sciences student Tom Price worked as a leader for the Student Volunteering Bangor Nature Reserve project, where he took part in organising and conducting a range of environmental work such as foot path maintenance, litter picks and habitat management.

He commented:
"I really enjoyed working on an environmental project at university helping to contribute to the sustainable ethos of the university. Having such a conscious and proactive student union at university is brilliant."