The Welshman, a documentary about the life of Owain Williams, one of the founders of Mudiad Amddiffyn Cymru (the Movement for the Defence of Wales), won in the Short Film category.
The film was created by two Bangor University graduates, director Lindsay Walker and producer Enlli Fychan Owain, who is Owain Williams' daughter.
"I'm absolutely over the moon," said Lindsay Walker. "I can't believe The Welshman has won a BAFTA! The film was made completely independently. 
"We were up against some tough competition with much bigger budgets behind them, The Welshman was made with £0."
Lindsay Walker graduated with an MA in Film Making at Bangor University, while Enlli Fychan Owain completed a degree in Media Studies.
"I'm so grateful I was able to attend film school, especially in my home town," Lindsay Walker said. 
"It really was a springboard to working in the industry and learning how to be resourceful."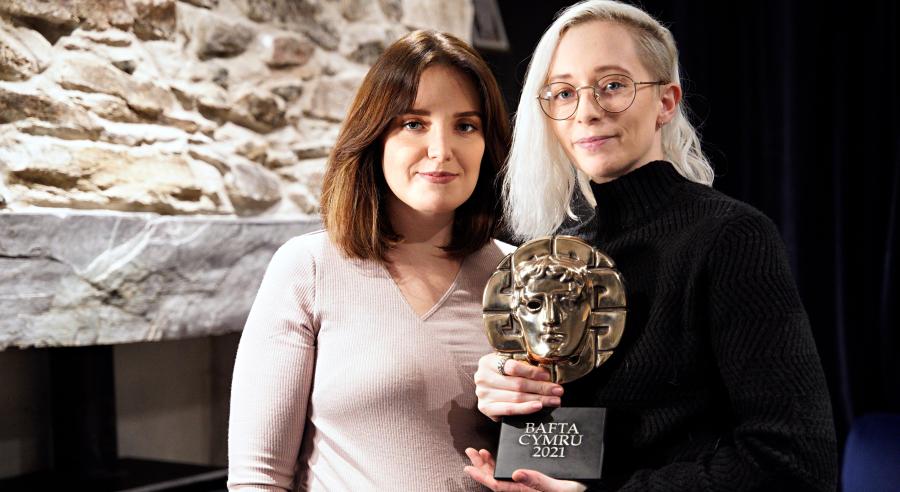 Enlli Fychan Owain was also one of three nominated for the BAFTA Cymru breakthrough award.

Along with two others, Williams – now a councillor - was convicted and jailed for planting an explosive device at the Tryweryn reservoir project north of Bala in 1963.
The act was part of a protest after dozens of people were forced to leave their homes in Capel Celyn when the village was drowned to create a reservoir. 
The project was granted planning permission by Westminster despite being opposed by every Welsh MP.
Ms Walker said: "Although the story of Tryweryn has been told many times, this is a film like no other. It delves beyond and captures the heart of its audience.
"It was created with a very small crew, all residing in Wales, all with a passion to tell this story the way it deserves to be told.
"The support of the Welsh community will only improve our chances of getting the film spread as far and wide as possible.
"We believe that it should be viewed not only by Welsh people, but also by those outside of Wales to help understand our history on our terms.
"Our history has been suppressed for far too long."
Dr Dyfrig Jones, head of Department of Creative Writing, English Literature, Film, Media and Journalism, said: "It is really excellent news to see both Lyndsay and Enlli do so incredibly well, and they're both a credit to the University. Winning a BAFTA is not only a testament to their incredible talent, but also their committment and hard work. We're all incredibly proud of what they've achieved."