Your Sabbatical Officers: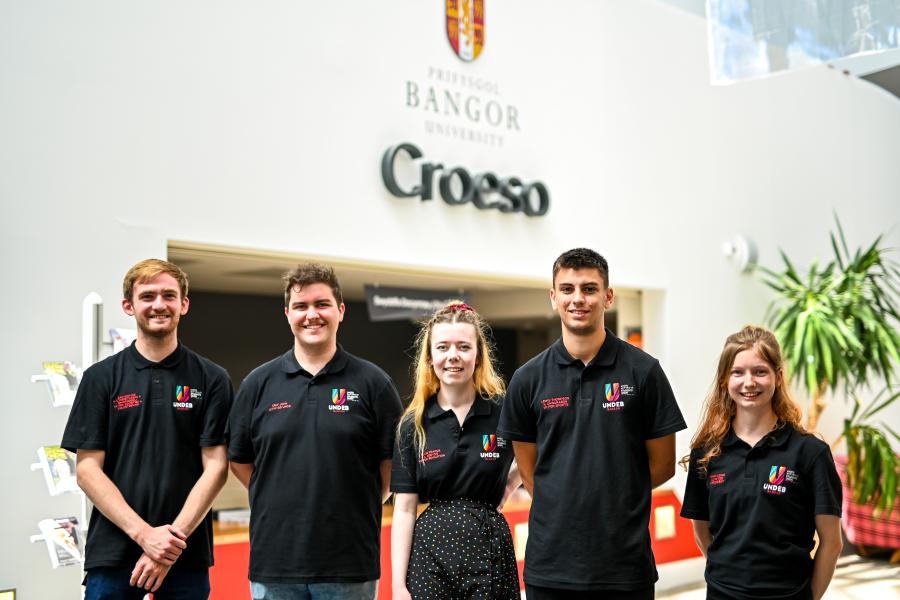 What does Undeb Bangor offer you?
Our Student Opportunities include Sport, Societies and Volunteering Opportunities. All our opportunities are free to join and you can join as many as you like. We've won several awards over the years for our student opportunities. 
Don't forget about Serendipity, Bangor University's official Welcome Week Fair, hosted by your Students' Union, Undeb Bangor. Serendipity will take place on Wednesday 25th January at 11am to 5pm in PJ Hall, Main University Building. 
Sports:
At Undeb Bangor we have around 60 sports clubs which you get involved with. We have field sports, racket sports, water sports, combat sports and indoor sport. You can join any club regardless of your ability, you can compete or play just for fun. 
Societies: 
With over a 100 societies ranging from academic societies to hobbies to cultural societies, it's not difficult to find a society that you'll love. Our societies offer a community for our students and a space to expand your interest. Anyone can form a society; all you need is a great idea and 10 students that share your passion. 
Volunteering:
All of our projects are student led. This means that students have the opportunity of leading and developing their projects, whilst developing skills in the community.  
 
All volunteering projects fit into one of our 5 categories, kids projects, elderly, community, environment and mental health projects. 
UMCB:
UMCB is the Bangor Welsh Students' Union and is responsible for supporting and representing our Welsh speaking students, learners and anyone else with an interest in the Welsh language and culture during their time here at Bangor. UMCB has various societies and volunteering projects that offer students experiences through the medium of Welsh, and hold weekly events, with plenty of opportunities Welsh speaking students to get involved. 
Student Voice:
Course reps are volunteers who gather feedback from students about their academic experience. Course reps regularly meet with the teaching staff in your school at Staff Student Committees to discuss students' views and implement positive changes. They also work closely with us, Undeb Bangor, to tackle any wider issues

Student Council is a forum that meets throughout the academic year to discuss, debate, and pass ideas. As well as working alongside the sabbatical officers on projects which will improve the student experience. Ideas can be anything from creating new projects and initiatives to policies that contribute to Undeb Bangor's strategic and future direction.

Undeb Bangor have 6 campaigns that we are prioritising this year to support students and make the University experience batter and safer for both current and future students. Follow us on Social Media to keep up to date on these and get involved.
Cost of Living

Mental Health

Accessibility and Inclusivity 

Student Experience 

Student Safety 

Sustainability
Follow Undeb Bangor on Social Media:
Find out more about Undeb Bangor on their website - undebbangor.com