James Otai (MSc. Environmental and Business Management, 2020) chose Bangor to further his education to help him develop his social enterprise work in Uganda.
 "The journey to study at Bangor University was a thrilling one which was only made possible due to the maximum support that I got from Windle Trust International, Bangor University (especially the International Students' Office), and the Commonwealth Sponsorship Commission. From the application process to being offered a Commonwealth Shared Scholarship, it was a smooth transition to a culture unfamiliar to me.
It was like a dream until I landed at Manchester International Airport and eventually navigated to Bangor by train. Embracing the cold weather reminded me of how far I had left the land of my ancestors. I was born and raised in Teso sub-region, a rural part of North-eastern Uganda, during the insurgency of the late 80s and early 90s. During this time accessing basic needs like proper housing and food was difficult, let alone education, which was a luxury. No wonder then that when free education was introduced under Universal Primary Education, trekking for more than 10kms daily to and from school was something I did with hope and excitement.
I worked hard to attain a bursary at A-level and attended Makerere University, gaining a Bachelor's degree in Social Work and Social Administration on government sponsorship and later becoming a commonwealth scholar.  
As a Social Worker, the desire to create positive change, especially among women and girls, grew based on my experience of seeing most of them trapped in abject poverty and struggling to meet basic needs. What became apparent to me was the girls' inability to afford sanitary pads to manage their monthly menstrual periods.  This was highlighted after a personal experience of witnessing a young girl struggling to deal with her first menses, an incident which kept her out of school for 2 weeks and eventually made her change school the following term.
When my friend Nathan Okiror, whom I had met during our internship, shared with me the findings from his dissertation that many girls were missing or dropping out of school due to menstruation periods, he asked me and our friend Fiona to join hands to start an organisation to address the issue in the communities. We eventually formed and registered an NGO back in 2016 called Imagine Her (IH) to address menstrual hygiene issues among women and girls by training them on how to make reusable sanitary pads, with boys and men being actively involved too. This is because in most families and institutions, especially in developing countries, menstrual hygiene management issues are never discussed among men and boys due to cultural taboos, gender inequalities and discriminatory social norms that often hinder women and girls from managing their menstrual health and hygiene.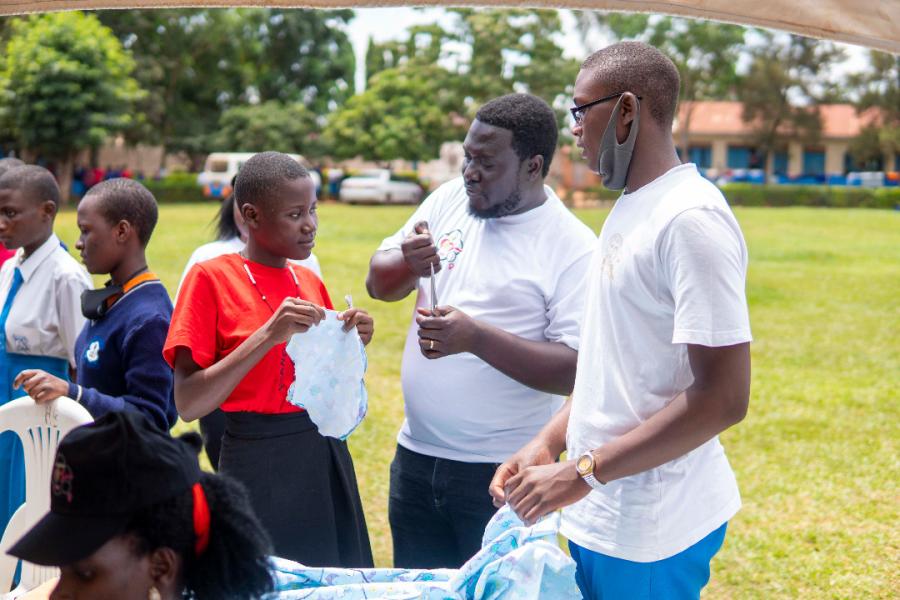 In the years before joining Bangor University, we initiated a social enterprise and innovation incubator program to train women and youth to start and run social enterprises for economic independence. Having read extensively about the MSc. in Environmental and Business Management at Bangor University, knowing how it would translate into my work with women and youth to create sustainable businesses, and the University's amazing location between Snowdonia, the Menai Strait and the Irish Sea, Bangor University was the perfect choice for me.
On arrival in North Wales, the beautiful scenery I had imagined presented itself in plain sight. The University offered the opportunity for hands-on learning through field trips, guest speakers, business analysis and research. Though movements were later restricted due to the coronavirus outbreak, watching different bird species sitting and singing on tree branches adjacent to my window and the availability of African-friendly food at the Asian shops on the high street made isolation bearable. More to that, great flatmates at Glyder T in Ffriddoedd Village from different continents turned into dear friends. Cooking and tasting different dishes from Chinese Hotpot, Italian pasta, Indian dahl and sipping Turkish spiced coffee are memories to last for eternity.
Now as Co-founder and Business Development and Operations Lead at Imagine Her (IH), I draw from a pot of knowledge, skills and experience that I gained from Bangor University for innovation, management and sustainability of our organisation."
It looks like you're visiting from outside the UK, would you like to be redirected to the international page?