Visiting the Archives
You must book an appointment in order to visit the Archives and Special Collections.
This can be done by email archives@bangor.ac.uk or phone 01248 383276.
Monday-Friday
9.30-12.30 (morning)         1.00-4.00 (afternoon)
If possible, we ask you to explain your requirements and pre-order documents and rare books.
If you have any special access requirements, please let us know before your visit.
If you do not already have a Library and Archives Card, you will be expected to complete a 'User Registration Form'  during your visit and to produce 2 forms of identification.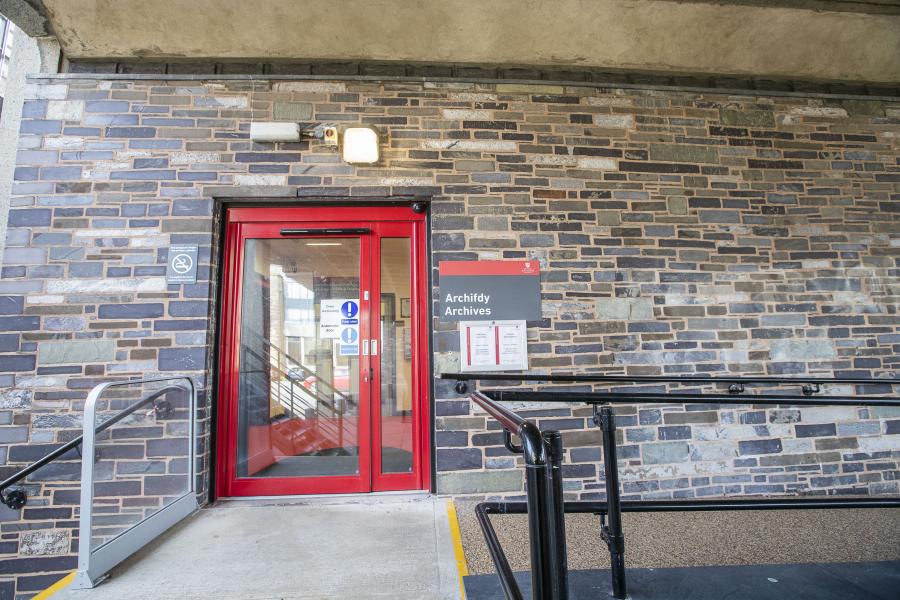 The Reading Rooms
You can access the reading rooms by entering the foyer and ringing the bell on the inner door. A member of staff from the Archives and Special Collections will come to greet you.
There are two reading rooms available in the Archives. To ensure that the rooms are well ventilated the windows will be open and there will be an air purifier running so remember to bring warm clothes.
Once in the consultation area you will be assigned a specific seat. There will be no need for you to wear gloves.
Facilities
Public toilets are available with hand washing facilities on the 1st and 2nd floors above the Archives and in the Main Library. Hand sanitisers are also provided in various locations.
Group Visits
The Archives and Special Collections welcomes visits from small groups of individuals for introductory sessions. These visits consist of :
an overview of the archival collections that are held by the University
a description of the work of the service
an explanation of the different methods of searching for material
a small display of a selection of items that reflect the broad nature of the collections
a question and answer session
The group visits usually last about 1.5 hours, and our education room can accommodate groups of up to 15 persons.
If you require further details or would like to make a booking for your group, please contact us on (01248) 383276 or email us at archives@bangor.ac.uk