Cysgliad Office ToolBar not showing
If the Cysgliad tool bar does not appear in Word or in Outlook under the review tab, there are a few things you can try before getting in contact for support via this website.
The first thing to do is to open the Settings (Windows 10 - Apps and Features) on your computer (Windows 7 - Control Panel - Programs) and make sure that Cysgliad and Cysgliad o fewn Microsoft Office are installed. See below :-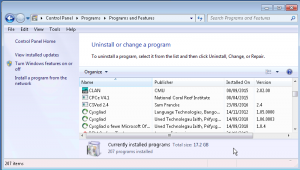 If you see Cysgliad and Cysgliad o fewn Microsoft Office then that means that both packages are installed and then the next thing to try is to open Word then click on File and then Options.  You should then see the screen below :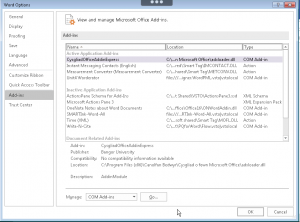 If the CysgliadOfficeAddInExpress shows under Active Application Add-ins as shown above, everything should be working. If it shows in Inactive Application Add-ins (as shown below) :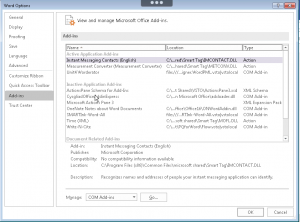 Then you need to click on the Go button next to Manage COM Add-ins and put a tick in the box next to CysgliadOfficeAddinExpress before clicking Ok.

If the CysgliadOfficeAddinExpress appears under Disabled Application Add-ins you need to change the drop down to Disabled Items and then click Go and re-enable the CysgliadOfficeAddinExpress.