Bangor University's Language Scheme
The University's Language Scheme has been developed in accordance with the Welsh Language Act (1993) and is a statutory document. The current scheme was approved by the Welsh Language Commissioner on 1 March 2013.
The scheme demonstrates how the University ensures that Welsh and English are treated on an equal basis.
Click on the image below to view a flip-book version of the scheme.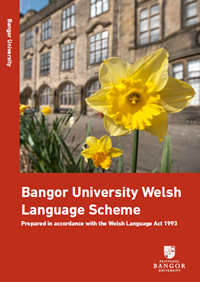 Alternatively a PDF version is available here:

To request a printed copy, please e-mail cynllun.iaith@bangor.ac.uk.
Policy Overview
Standards
Guidance
Support
Tweets