Professional Development Courses for the Education Sector 2014/15
16 September 2014
Rhoi'r Fframwaith ar waith (1)
Applying the Literacy Framework (1)
(Llafaredd/Oracy) Dr. Nia Williams, 9:30–4:00
21 and 22 October 2014
Sglein ar eich Sgiliau Iaith
Developing Welsh Language Skills
Eleri Hughes, 9:30–4:00 (two-day course)
11 November 2014
Rhoi'r Fframwaith ar waith (2)
Applying the Literacy Framework (2)
(Ysgrifennu/Writing) Dr. Nia Williams, 9:30–4:00
20 January 2015
Cymraeg ar y Cyfrifiadur
Cymraeg ar y Cyfrifiadur
Dr. Llion Jones, 9:30–4:00
10 February 2015
Rhoi'r Fframwaith ar waith (3)
Applying the Literacy Framework (3)
Dr. Nia Williams, 9:30–4:00
17 ac 18 March 2015
Sglein ar eich Sgiliau Iaith
Developing Welsh Language Skills
Eleri Hughes, 9:30–4:00 (two-day course)
Please note: all courses will be delivered in Welsh.
To register on any of these courses, please complete and return the registration form to Canolfan Bedwyr.
A PDF file of the course programme for 2014/15 can be viewed below.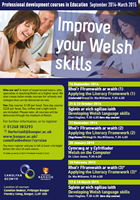 Please contact us if you wish to discuss the possibility of having any of these courses delivered at your school/college.