Bangor University helps Mozilla with Welsh speech technology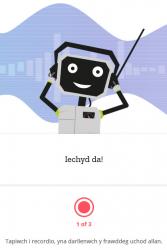 Mozilla, the California-based international company responsible for the Firefox web browser, have just launched their international Common Voice project. After having started with English last year, three new languages are now being added, namely Welsh, German and French. Welsh succeeded in being amongst the first three thanks to the help of the Language Technologies Unit at Canolfan Bedwyr, Bangor University.
Dewi Bryn Jones, the Language Technologies Unit's chief software engineer said:
"We developed the Paldaruo app some two years before Mozilla began their Common Voice project. Both are crowdsourcing tools to record people reading prompts aloud, in order to use them to create speech technology tools. Mozilla were delighted that we had already undertaken such a project, and were eager to use our expertise. We therefore decided to work with them, and donate all our Paldaruo prompts as a starting point for their set of Welsh prompts. That's how Welsh is one of the first languages in this project, in contrast to the usual situation with minority languages."
Mozilla now invites anyone to record their voices on the Common Voice website, at: https://voice.mozilla.org/cy, with the app available from https://itunes.apple.com/us/app/project-common-voice-by-mozilla/id1240588326.
It is hoped that the collaboration between Mozilla and Bangor University will grow, and that this activity will also encourage other large companies to include Welsh early on in their international plans.
Publication date: 7 June 2018