Celebrating staff and student success on Shwmae Su'mae Day 2019
With Shwmae Su'mae Day now an annual celebration in numerous institutions across Wales, members of University staff who have been following Welsh language courses received certificates for their efforts today (October 15).
Shwmae Su'mae Day aims to promote the use of Welsh by encouraging everyone to start a conversation with a greeting in the language. It is also an opportunity to celebrate the numerous achievements of our staff and students who have either actively learned the language or increased their proficiency in Welsh.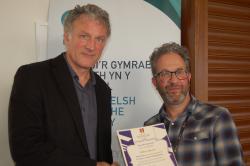 PVC Prof Jerry Hunter (left) presenting Prof Nathan Abrams with his certificate

This year, 48 members of University staff have gained Welsh in the Workplace Certificates at various levels, which adds significantly to the number of staff who can now use some Welsh in the workplace, be it their daily work or simply socialising with colleagues. 12 members of staff have also passed the WJEC Welsh for Adults examinations at various levels.
A large number of members of staff follow Welsh courses within the University and in the community, with courses available at all levels – from absolute beginners to those who have mastered the language and are studying for A Level qualifications – exemplifying clearly the University's commitment to developing and promoting bilingualism amongst its staff and to placing bilingualism at the heart of all its activities.
For more information on learning Welsh courses in Bangor and the region, visit: https://www.bangor.ac.uk/cio/index.php.en
As well as commending University staff for their achievements, many students have also been following courses that will give them official recognition of their ability to communicate and work through the medium of Welsh. This year, the largest number yet registered for the Language Skills Certificate, which is awarded by the Coleg Cymraeg Cenedlaethol. Among them, Jack Wilson from Warrington, who came second in this year's Urdd Eisteddfod Learner of the Year competition. Jack succeeded in gaining the Certificate with Distinction.
Ever since the first Shwmae Su'mae Day in 2013, the University has held a series of activities for staff and students to promote the use of Welsh on its sites and, this year, a whole week of events has been organised by UMCB, Undeb Myfyrwyr Cymraeg Bangor (Bangor Welsh Students' Union); from informal chat sessions and quizzes to an open mic night, there will certainly be something to suit everyone, regardless of their ability in Welsh. For more information, please contact UMCB President, Lleucu Myrddin: lleucu.myrddin@undebbangor.com.
Presenting the staff members with their certificates, Professor Jerry Hunter, Pro Vice-Chancellor (Welsh Language, Culture and Civic Engagement) said:
"The Welsh and Welsh-medium culture that we have here at Bangor University is unique and it's a great pleasure to present the learners with their certificates today and congratulate them on their success. Today, we celebrate the achievements of those who have just started learning the language alongside staff who are now fluent and contributing to the University's Welsh-medium provision. This shows that we have a really effective system here for learners at all levels. It's great to celebrate Shwmae Su'mae Day but, bearing in mind that Bangor University is the biggest provider of Welsh-medium Higher Education, it's also an opportunity for us to thank our staff and students for contributing to a lively and varied Welsh culture all year round."
Publication date: 15 October 2019