Recognition for a Twittering Poet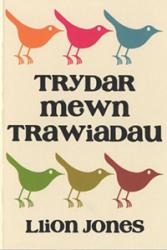 An innovative volume of poetic tweets by Dr Llion Jones has been shortlisted for the Wales Book of the Year award for 2013.
Published by Cyhoeddiadau Barddas, Trydar mewn Trawiadau (Strict Metre Twittering), has been described as a ground-breaking collection of Welsh language tweets and possibly one of the first ever collections of twitter verse in any language.
Over a period of three years, Llion Jones, Director of Canolfan Bedwyr and chaired poet, has been making creative use of the popular Twitter platform to tweet solely in 'cynghanedd' - a complex system of internal assonance, alliteration and rhyme unique to Welsh poetry. Within the constraints of the 140 characters allowed by Twitter, he has been twittering his view on the world through couplets and 'englynion'.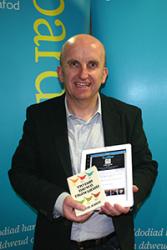 Dr Llion JonesCommenting on the shortlisting, the author said:, "My only real intention in publishing this collection was to seek a new audience for cynghanedd and Welsh poetry whilst encouraging more Welsh speakers to make creative use of social media. The response to the book has far exceeded expectations and this recognition from the adjudicating panel of the Book of the Year award is extremely pleasing."
The category winners of Wales Book of the Year 2012 - factual, fiction and poetry – and then the overall title winner – both English and Welsh - will be named in a ceremony at Cardiff on 18 July.
The competition is organised by Literature Wales and more information can be found on the competition's website
Read more about Trydar mewn Trawiadau on the Welsh Books Council website, Gwales: http://www.gwales.com/bibliographic/?isbn=9781906396602&tsid=3 and on the poet's own website
Publication date: 13 May 2013