RoboLlywydd and other Welsh Voices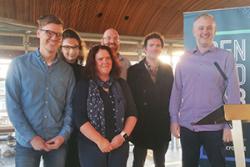 The 'RoboLlywydd' team (l-r Marc Thomas, (Doopoll), Indeg Williams, Delyth Prys, Gruffudd Prys, Myfyr Prys & Dewi Bryn Jones at the National Assembly.Bangor University has created new tools for producing natural sounding synthetic voices in Welsh. They will be able to read aloud any Welsh text from a computer or mobile device.
As part of the Macsen project, funded by the Welsh Government, a quick and easy method was devised for preparing prompts, recording individuals reading them aloud, and using information about Welsh sounds to build synthetic voices that sound very similar to the voice of the individual recorded.
In the SeneddLab2017 event in Cardiff recently, the team for the Language Technologies Unit, Canolfan Bedwyr had an opportunity to test this method, building a new voice in one hour to give oral information about the Welsh National Assembly, calling it 'RoboLlywydd' ('RoboPresident').
You can listen to the voice on http://techiaith.cymru/2017/04/robollywydd//?lang=en.
Dewi Bryn Jones, the LTU's chief software developer explained:
"We wanted to extend our Welsh language 'Macsen' system, which is a prototype of a personal digital assistant similar to Siri or Alexa, to use the voices of various individuals. We also wanted the capability to provide synthetic voices for children and adults who speak Welsh and who are about to lose their own voices because of surgery or a medical condition. We used the MaryTTS system, and adapted it for use with Welsh. Calling the new voice 'RoboLlywydd' was just a bit of fun, but it shows what's possible."
The Macsen project has also developed a 'toolbox' for developing and improving speech recognition for Welsh, including tools for analysing speech corpora and aligning them with text, and new types of acoustic models from the recording the LTU has collected so far with the crowdsourcing Paldaruo app.
Dewi Bryn Jones explained again: "All these, together with the new tools for voice creation, are available from the Welsh National Language Technologies Portal (http://techiaith.cymru) for anyone to use for including Welsh speech technology in their software projects. The resources are there for companies, both large and small, to use, as well as coding clubs and hobbyists – the aim is to get the technology into as many digital products as we can."
Delyth Prys, head of the LTU said:
"We really feel that we've made a breakthrough this year, not just in providing useful technology for Welsh, but also in providing a template for other small languages to follow, and to develop similar resources."
Work on improving Welsh speech recognition is ongoing, and the LTU team are appealing to all Welsh speakers and learners to join in, record their voices on the Paldaruo app, and contribute them to the project. Developers and anyone else with a little coding knowledge can download and extend Macsen to speak with their own voices and/or to add new questions to the digital personal assistant system.
Publication date: 11 April 2017