Royal College of Speech and Language Therapists honour three researchers from Bangor University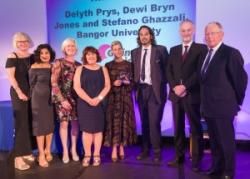 L- r: RCSLT Chair, Della Money; RCSLT CEO Kamini Gadhok MBE; RCSLT Deputy Chair, Mary Heritage; Giving Voice Award winner Delyth Prys; RCSLT Patron, HRH The Countess of Wessex; Giving Voice Awards winners Stefano Ghazzali and Dewi Bryn Jones and RCSLT President Nick Hewer.In a special award ceremony hosted by the Royal College of Speech and Language Therapists (RCSLT) at Nottingham during their annual conference this year, Delyth Prys, Dewi Bryn Jones a Stefan Ghazzali from the Language Technologies Unit, Canolfan Bedwyr, were presented with a Giving Voice Award. The three, through their Lleisiwr project, funded by the Welsh Government, had developed software to create personalized synthetic voices to help patients about to lose their own voices. The project enabled voice banking in Welsh and English so that a digital version of the voices could be built.
The judges were of the opinion that this could transform the lives of people with motor neuron disease or head and neck cancer. They also praised the way the team had obtained National media coverage for the project, and brought the needs of people with speech, language and communication difficulties to the attention of the wider public.
The three were nominated by Rhian Wyn, a speech and Language Therapist at the Betsi Cadwaladr University Health Board. Rhian explained: "Although voice banking services have been available for some time through the medium of English, we as speech and language therapists know that one is also needed in Welsh and that both languages are needed for these patients who speak Welsh". She also said that the work had been filmed for an S4C television programme called "Achub Llais John" (Rescuing John's Voice), following a patient who had had a laryngectomy and how he was given a personalized digital voice, and she added: "It's been an honour to work with the team and nominate them for this award". A copy of the short video shown at the Award Ceremony can be seen at youtu.be/DSHtutQ1afs.
Publication date: 2 October 2019