Russians visit Bangor to find out about our language planning and Welsh language support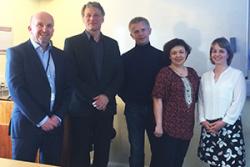 Dr Llion Jones, Prof Jerry Hunter (left) and Dr Lowri Hughes (right) with the Russian visitorsAcademic researchers from Russia were recently welcomed to Canolfan Bedwyr, Bangor University's Centre for Welsh Language Services, Technology and Research.
Professor Konstantin Sulimov and Dr Nadezhda Borisova from the Political Science Department at Perm University, are currently working on a major research project focussing on the relationships between ethnic minorities and the states to which they belong. Having decided to look specifically at the relationship between Wales and the United Kingdom, they visited Bangor University on the basis of its international reputation in the areas of language planning and Welsh language support.
Professor Sulimov and Dr Borisova were formally welcomed to Bangor by Pro Vice-chancellor Professor Jerry Hunter (Welsh Medium and Civic Engagement). Following a presentation from the visitors on their research project, Professor Hunter, joined Dr Llion Jones, Dr Lowri Hughes and Delyth Prys from Canolfan Bedwyr and Dr Cynog Prys from the School of Social Sciences in outlining the various strategies that are being implemented in Wales in order to promote the Welsh language and preserve the rights of Welsh speakers.
Explaining the reasons for their visit, Dr Nadezhda Borisova commented:
"We knew of Bangor University's strengths in the area of language planning and also aware of it being a thoroughly bilingual university with an international outlook. Our project has a particular focus on the relationship between language rights and identity."
Dr Llion Jones, Director of Canolfan Bedwyr added:
"It was a pleasure to welcome our visitors from Perm University in Russia. Such visits serve to reinforce the fact that Bangor University's excellence in language planning practice and research has a truly International significance."
Publication date: 12 April 2017