Womenspire success for Delyth Prys
The head of Bangor University's Language Technologies Unit, Delyth Prys, has been given an award by Wales' leading gender-equality charity recently, in recognition for her pioneering work in the field of minority language technologies.
Delyth leads a team of programmers, software developers and lexicographers at Bangor University's Language Technologies Unit, a specialist unit housed within Canolfan Bedwyr, the University's Welsh Language Centre. It conducts pioneering research and development in text and speech technologies, terminology standardization, and other aspects of NLP and Computational Linguistics. Its primary focus is on Welsh and other Celtic languages, and on multilingual aspects of communication. Amongst the Language Technologies Unit's special interests are language revitalization through language technologies, and enabling less-resourced languages to thrive in the digital age.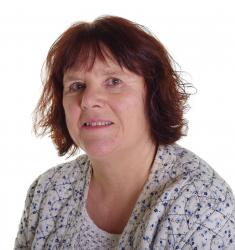 Delyth Prys
She was presented the Building Wales Award at the annual Womenspire Awards in Cardiff on June 5. The awards are facilitated by Chwarae Teg, a charity that promotes gender-equality, and the annual Womenspire event celebrates the achievements of women in all aspects of Welsh life.
The Building Wales category focussed on women studying and working in the science, construction, technology and engineering sectors. It celebrates those women who are building Wales through advancing in their own career journey and making a real difference to their own sectors in Wales. Also nominated in the same category was Dr Yueng-Djern Lenn of Bangor University's School of Ocean Sciences.
Speaking after the presentation evening, Delyth said:
"I consider it a huge honour to be given this award. It recognises the work of the whole team at the Language Technologies Unit and I'm incredibly grateful to them for nominating me. Research into Welsh computer-based communication tools is incredibly important for the future of the language and it was wonderful to be able to publicise this aspect of our work."
Congratulating Delyth on the award, Bangor University's Pro Vice-chancellor (Welsh Medium and Civic Engagement), Professor Jerry Hunter, said:
"Huge congratulations to Delyth on receiving this well-deserved award at Chwarae Teg's Womenspire event. The work undertaken by her at Canolfan Bedwyr's Language Technologies Unit is a massive contribution to Welsh and other minority languages' vitality and serves to inspire other women to develop valuable careers in this important field."
Bangor University is committed to advancing women's careers in science, technology, engineering, medicine and mathematics (STEMM), principles which are embodied in the Athena Swan Charter initiative. The University has achieved the Bronze Award and is committed to improvement. The Athena SWAN initiatives and projects address and benefit both staff and students.
More information on Chwarae Teg and the Womenspire Awards can be found here: https://www.cteg.org.uk/
Publication date: 7 June 2018