Beijing Dance Academy opens UK tour in Llandudno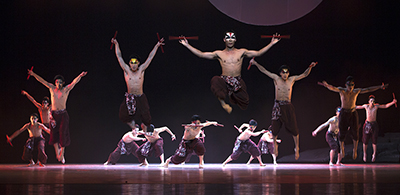 Dancers from China's prestigious Beijing Dance Academy are set to open their exclusive UK tour, Beauty Beyond Words, in Llandudno on Monday 28th September in partnership with Bangor University's Confucius Institute.
Established in 2004 to promote Chinese language and culture, Confucius Institutes number over 400 worldwide, with three currently operating in Wales. Bangor University's Confucius Institute will host the Beijing Dance Academy at Venue Cymru on this, the company's very first visit to north Wales, and a spectacular evening of Chinese dance awaits.
"We are very privileged to be able to welcome the Beijing Dance Academy to north Wales on this, the 11th anniversary of the global Confucius Institute programme..." commented Dr David Joyner, Director of Bangor University's Confucius Institute.
"The dancers for this special performance are coming to us from one of the most esteemed dance schools in the world and we are delighted to be able to host them for this stunning celebration of Chinese dance."
Founded in Beijing in 1954, the Beijing Dance Academy is a renowned institution of Higher Education in China and has become one of the most illustrious dance schools in the world, producing some of China's finest performers, actors and choreographers.
The Academy's latest contribution, Beauty Beyond Words mixes elements of the its classical repertoire with new dance pieces inspired by Chinese folk tradition to create an audio-visual feast depicting historical battles, sacrificial rites, ethnic events and Chinese romantic culture.
The tour, which has been organised exclusively in partnership with UK Confucius Institutes, opens at Venue Cymru in Llandudno on Monday 28th September (7.30-9pm), before moving on to the George Wood Theatre at Goldsmiths College in London on 2nd October, and closing with a finale performance at Glasgow's Mitchell Theatre on 3rd October.
Tickets for the performance are now on sale (£12 full price/£6 concessions) and can be purchased from Venue Cymru's Box Office on: 01492 872000 (www.venuecymru.co.uk).
Publication date: 10 September 2015