Chinese Arts to welcome Chinese New Year
Bangor residents and student can prepare to welcome the Chinese New Year as never before this year, with a packed programme of Chinese Cultural Activities to whet their appetites for all things Chinese, in advance of the Chinese new year celebration period which rund between 10-21 February.

Saturday 2 February is the date to not to be missed. During the afternoon, a performance organised by the University's Confucius Institute will showcase Martial Arts Performances, Folk dances and Folk songs, among other performances. All the performances are by Chinese professional artists from Harbin Normal University's School of Arts in China.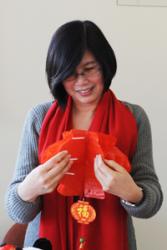 Prof Liying Zhang creates a Chinese Lantern

This free performance is taking place at Bangor University's Prichard Jones Hall from 4.00. All are welcome to attend. Director of the Confucius Institute Dr Wei Shi said: "The Chinese New Year is a highpoint in Chinese people's calendars. The New Year begins on February 10th and lasts until February 21. During that time, Chinese people take part in a number of activities and celebrations, which include making dumplings and setting off fireworks. Our celebration is in advance of the New Year as we wanted to inform people about the celebration in advance."

To mark the actual Chinese New Year, the Confucius Institute is visiting a number of schools in the region to undertake activities with the pupils. There are also activities taking place in Bangor during the New Year period, including a lantern making workshop.
"Lanterns are an important part of Chinese new year as we use them to decorate our homes for the celebrations" Dr Wei Shi explained.
Publication date: 4 February 2013