Chinese Calligraphy Season Launched
A special season of Chinese calligraphy, organised by Bangor University's Confucius Institute, will celebrate the ancient art of writing in north Wales this autumn to mark the tenth anniversary of the global Confucius Institute programme.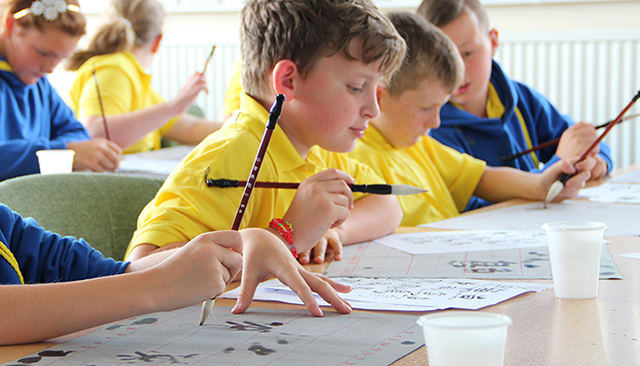 Established to promote Chinese language and culture, Confucius Institutes worldwide number in their hundreds, with 24 in the UK including the Institute at Bangor, which opened in 2012. To commemorate the launch of the very first Confucius Institute, ten years ago in Seoul, South Korea, calligraphy events will take place across the region in the two weeks surrounding Confucius Institute Day on 27th September, with public workshops happening in Llandudno, Bangor and Caernarfon.
A spokesperson from Bangor University's Confucius Institute said:
"We are delighted to be able to host such an exciting season of calligraphy in partnership with our friends at BOCS, Venue Cymru, Galeri and Bangor Arts Initiative. This beautiful artform is accessible to everyone and can teach us so much about mark-making and expression. The history of the Chinese writing system stretches back 5,000 years and calligraphy remains a central pillar of Chinese culture and history today."
Renowned calligraphy expert, Sun He, a Professor in Humanities at Beijing's China University of Political Science and Law, and a leading light of Chinese culture, will headline the events, sharing her creative expertise through a series of masterclasses, workshops and artist's talks. Sun will be joined on the anniversary day itself by leading Welsh calligrapher and craftsman, Ieuan Rees, for a fantastic cross-cultural workshop, open to everyone and free of charge, in Bangor's Deiniol Shopping Centre Gallery.
"We are very privileged to receive a Chinese artist of such prestige here in Bangor…" commented Institute Director, Dr David Joyner.
"…Sun's expertise in this ancient and beautiful art is second to none and her work is truly inspirational. For anyone interested in learning more about calligraphy and Chinese culture, this is not one to miss."
For more information about the calligraphy season, please click here.
Publication date: 16 September 2014