Contract renewed for flourishing Confucius Institute
Bangor University's Confucius Institute has signed a second five-year contract with Chinese funding authority Hanban, recognising the success of the initiative to date in building important links between China and Wales.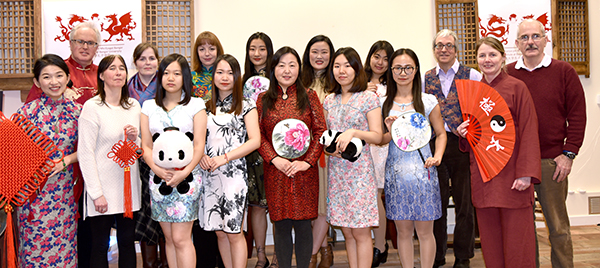 The Confucius Institute (CI) at Bangor University was established in September 2012 and is one of over 400 similar initiatives worldwide; only three being located in Wales. Partnered with the China University of Political Science and Law (CUPL) in Beijing and funded by Hanban, Bangor's CI provides opportunities for people across north Wales to engage with Chinese language and culture and also provides a forum to share Welsh culture with China.
Since opening, Bangor's CI has grown from strength to strength, quadrupling the number of schools in which it teaches Mandarin and developing a strong audience base across the community. In 2016 alone, over 8000 people attended Confucius Institute events and workshops across the region, including at least 600 students regularly learning Mandarin in schools, colleges and at the University. Last year was particularly successful with the CI securing its first five Confucius Classrooms in north Wales from a total of only 60 awarded worldwide.
"We are very proud of what has been achieved in our CI's first five years of operation and we are delighted to renew our contract with Hanban…" commented Dr David Joyner, Director of the Confucius Institute.
"… We have developed a strong cultural, educational and intellectual exchange between China and Wales; a true meeting of the Two Dragons. Our uniquely bilingual environment here in Bangor makes this an ideal place to support the work of the Confucius Institute; a setting that both enriches national diversity and promotes cultural comparability between nations."
Following on from its highly popular Chinese New Year celebrations in February, the Confucius Institute has a busy year ahead with 17 new school classes starting after Easter and plenty of public events to look forward to.
Publication date: 25 April 2017