Exhibition of Chinese Botanical Art
A special exhibition of Chinese Botanical Art will open its doors to the public at Treborth Botanic Garden in Bangor on Saturday 30th May, in partnership with Bangor University's Confucius Institute.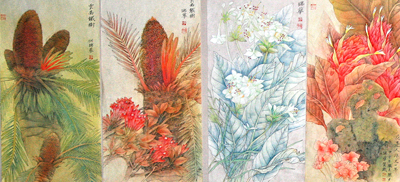 Featuring Shui-mo (Chinese brush) paintings from visiting artist He Rui Hua, the exhibition also contains Chinese-themed images from local photographer John Gorham, and watercolour paintings of Chinese plants and orchids from students of botanical artist Doreen Hamilton.
The exhibition was inspired by the exceptionally high standard of paintings produced during a Chinese botanical illustration course run earlier this year by the Confucius Institute in partnership with Treborth. The course, led by botanical artist Doreen Hamilton over a period of six months, attracted beginner and established artists alike, and resulted in such a rich body of work that a group exhibition was the next logical step.
A spokesperson from Bangor University's Confucius Institute said:
"We were so overwhelmed by demand for the course that we decided to run it twice. Around 30 people took part and we are proud to be able to display their work in a professional setting. All of the artists in the exhibition explore elements of Chinese botany in their work, and the collection sits together nicely, displaying characteristics from both European and Chinese artistic tradition."
The Confucius Institute is currently working closely with Treborth and its project partner in China (Xishuangbanna Tropical Botanic Garden) to develop a Chinese garden on site, and the exhibition is just one of many projects resulting from this collaboration.
The exhibition at Treborth is free of charge and open to the public between Saturday 30th May and Monday 1st June, 11am-4pm. A Chinese Kite Workshop will also take place at the garden on Saturday 30th May from 11am-3pm (£4 per kite, all welcome).
Publication date: 19 May 2015