Hundreds turn out for Chinese New Year
Crowds of people flocked to Bangor city centre on Saturday 24 February to celebrate Chinese New Year 2018, Year of the Dog, with a series of colourful performances from Bangor University's Confucius Institute.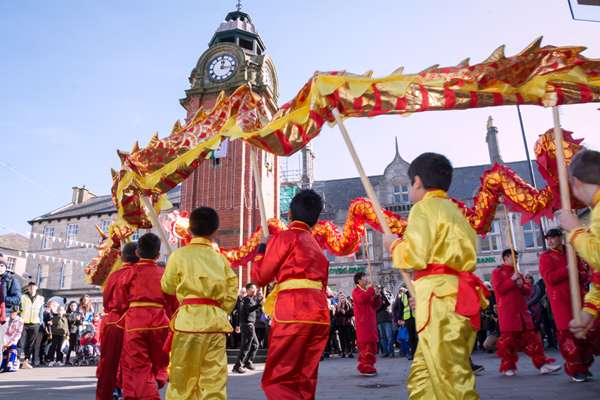 A Chinese New Year celebration has been organised in Bangor by the Confucius Institute for the last five years now, with the event growing in popularity to become a major feature of the region's cultural calendar. This year's event followed on from Pontio's Wales-China Festival the previous weekend which, in collaboration with Invertigo Theatre and the Confucius Institute, celebrated Welsh and Chinese culture with a series of eclectic performances and events over three days.
"There is clearly a strong appetite for Chinese culture in the city" commented Emlyn Williams, Project Officer with Bangor City Council.
"The events for Chinese New Year have been hugely beneficial to both Bangor and the local area more widely; bringing the community together to celebrate cultural diversity and increasing our region's tourism offer."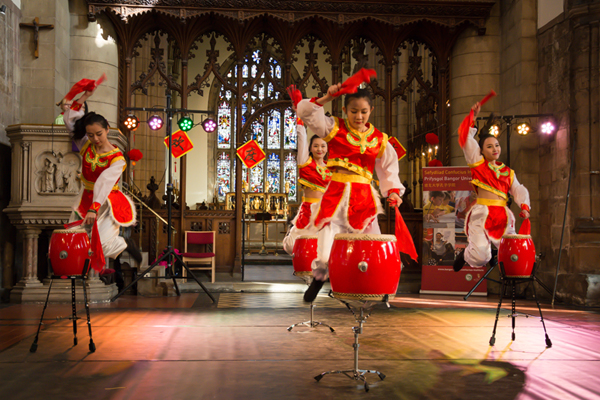 The Confucius Institute's event was attended by an estimated 4000 people; opening with a Dragon Parade along the High Street, followed by a Chinese Gala in Bangor Cathedral. Performances included a dazzling line-up of Chinese dance and music performed by talented artists from the Confucius Institutes at both Bangor and London South Bank Universities. Pupils from Our Lady's School and the North Wales Chinese School in Bangor also took part, showcasing a number of dance pieces they have learned throughout the year.
Special guests on the day included Mayor of Bangor, Councillor Derek Hainge; Professor John Hughes, Vice-Chancellor of Bangor University; and local actress Angharad Rhodes, 14, who is best known for her leading role in the CBeebies television series Melody.
Publication date: 27 February 2018