Impressive turn out for Shandong University Orchestra
Bangor University's Confucius Institute brought the Shandong University Orchestra to Pontio last night (17 October), mesmerising over 250 audiences with a stunning performance of Chinese traditional music.
Fifteen members of the Fine Art School at Shandong University travelled to north Wales as part of their UK tour. As well as hearing magical performances of Chinese folk music on the erhu, pipa, yangqin, and sheng the audience was treated to performance of British folk songs.
Established in 2007, this internationally acclaimed orchestra has performed around the world, bringing the cultural traditions of Shandong province to Europe, Russia and Japan and has been widely praised for the virtuosity and high spirit of its members.
Last night's performance was recorded by BBC RADIO Cymru providing a wonderful opportunity to introduce traditional Chinese music from Shandong's province to a wider UK audience and inspire many future links between Welsh and Chinese musicians.
Gareth Iwan Jones, Senior Producer (Music) from BBC Wales commented:
'"An evening of stunning music. The orchestra captivates with beautiful melodies played perfectly – but also surprise, challenge and amaze the audience with inventive arrangements and solo pieces."
Dr Wyn Thomas from Bangor University's school of music and media remarked:
'Excellent, excellent in every respect. For such a young ensemble of musicians, it was extremely professional and a most commendable performance.'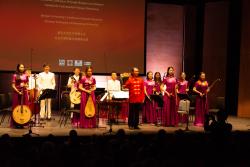 Publication date: 22 October 2018