Impressive turnout for Bangor's Chinese New Year celebrations
Hundreds of people gathered in Bangor city centre on Saturday 4 February for the city's biggest celebration of Chinese New Year to date – Year of the Rooster 2017.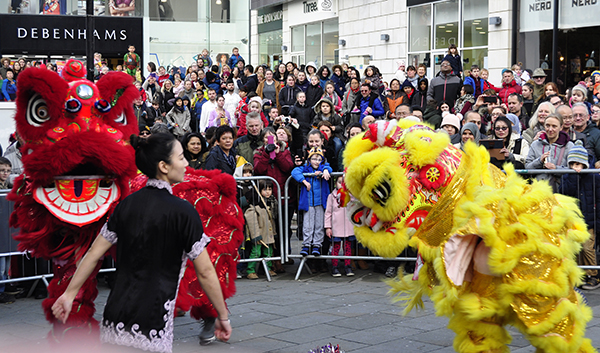 Among the highlights of the celebration was a 15 metre-long Chinese dragon that wound its way through the city centre accompanied by dancers and drummers dressed in traditional costume.
A Chinese gala followed, featuring a stunning repertoire of Chinese music, dance and Kung Fu by talented performers from the Confucius Institutes at Bangor University and London South Bank University. Children from Our Lady's School and the North Wales Chinese School in Bangor also took part, showcasing a number of dazzling dance pieces they have been mastering since September.
The gala also featured winning vocal performances from 16-year old Fu Lian, who is currently studying Mandarin with the Confucius Institute, and from the Institute's own staff; Director Xin Yanjun and Artist in Residence Raymond Murphy, with a special Chinese/Welsh duet of Ar Hyd y Nos (All Through the Night).
"The event was superb." reflected Artist in Residence Raymond Murphy.
"There was an impressive crowd gathered in front of the stage and I have been told by a number of people that it was the best event they had seen in the town. For a few hours on Saturday, Bangor took on a flavour of China which made real difference."
Special guests on the day included Mayor of Bangor, Councillor Dewi Williams, and local actress Angharad Rhodes, 13, who is best known for her leading role in the CBeebies television series Melody.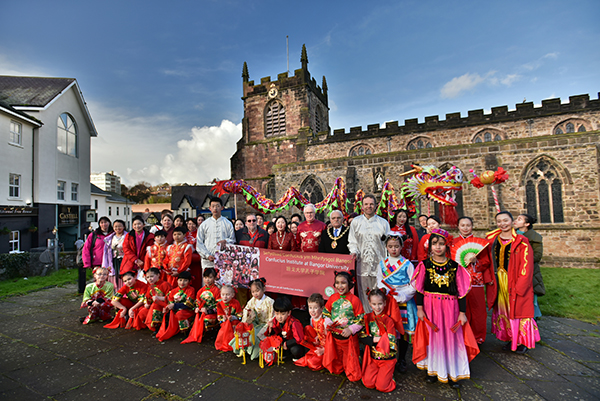 Publication date: 9 February 2017