Llangollen International Musical Eisteddfod!
At this year's 72nd International Eisteddfod at Llangollen, the talented staff of the Confucius Institute at Bangor University were kept exceptionally busy.
Young people seconded from China to teach Mandarin and Chinese culture in schools, colleges and communities in north Wales are the Institute's Chinese Tutors, and they were also the performers on the Globe Stage at the Eisteddfod in Llangollen. Traditional Chinese dances, Chinese songs and martial arts were performed, together with a captivating recital on the Hulusi.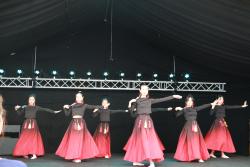 A member of the audience at Llangollen, Emma Webb said,
We were amazed by the magical performances from the Chinese dancers and enjoyed seeing so many different types of traditional Chinese music and dance. The tai chi performance was incredible!
As well as performing at the festival, Confucius Institute staff held specialist workshops at the Eisteddfod's Harmony Centre. They included workshops on Chinese calligraphy, Kite painting, how to conduct tea ceremonies and Chinese knots.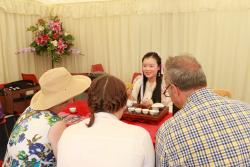 Publication date: 8 July 2019