Official opening of the Two Dragons Lounge
On Monday 9th February, the Confucius Institute celebrated the launch of its newly developed Two Dragons Lounge by unveiling two stunning murals of Welsh landscape from art students at Bangor University.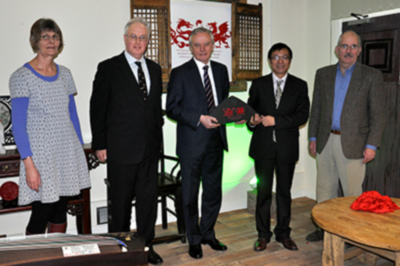 Located in the Institute's offices on the ninth floor of Bangor University's Chemistry Tower (Alun Roberts Building), the Two Dragons Lounge is the latest interpretive space to be developed at the Institute, following the opening of its highly acclaimed Two Dragons Chinese Pavilion last summer.
Dr. David Joyner, Co-Director of Bangor University's Confucius Institute said:
"We are seeking to create an environment in which the essence of China and Wales can be experienced firsthand. Our Two Dragons Lounge aims to evoke the spirit of Wales, and we hope these unique spaces will act as a visual aid to build a greater understanding between the cultures of the two countries."
The artists chosen to undertake the murals, Raymond Murphy and Sarah Whiteside, are currently studying for a Fine Art degree at Bangor University, and both take their artistic inspiration from the Welsh landscape. Together, their murals speak of the power of nature and of our relationship to it.
A dramatic interpretation of Anglesey's South Stack, seen from the sea with its iconic lighthouse, evokes the majesty and dominance of the natural world (Raymond Murphy). Opposite, a vivid portrayal of Penrhyn Quarry in the 19th Century captures the frenetic activity of the industrial age (Sarah Whiteside); a work inspired by Henry Hawkins' much earlier painting from 1832.
The opening of the Two Dragons Lounge was celebrated with a special performance from local Welsh and Chinese musicians, presided over by Vice Chancellor Prof. John Hughes.
Publication date: 9 February 2015