Pupils receive awards for their participation in pan-Wales project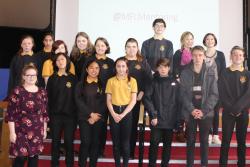 Ysgol Friars pupils who took part, with their mentor, Rebecca Kirkby.More than 150 pupils of eight schools in north Wales met in Bangor University to celebrate the third year of success of the award-winning MFL Student Mentoring Project. This project, funded by the Welsh Government as part of their Global Futures scheme, aims to increase the number of pupils studying modern foreign languages in schools across Wales. The schools attending were Tryfan, Emrys ap Iwan, Rhyl, Friars, Dyffryn Ogwen, Argoed, Holyhead and Glan-y-Môr.
The Ceremony was hosted by Lucy Jenkins, national coordinator of the project, and Rubén Chapela-Orri, the lead at Bangor University.
Lucy Jenkins said "It was such a pleasure to welcome so many schools to Bangor University for a celebration of their achievements. Pupils, teachers and mentors alike have worked tirelessly to make the MFL Mentoring Project the success it is, and I can't thank everyone enough for their enthusiasm! A fitting end to a great year of language mentoring!"
Dr Anna Saunders, head of the School of Modern languages and Cultures at Bangor University said "We're really proud of our student mentors at Bangor and all the work they have done with schools to create a new generation of budding linguists. There was a real buzz at the award ceremony, and it was lovely to see the relationships that have developed between mentors and their schools."
Amanda Creevy, GwE's GCSE MFL Lead Practitioner said "It was fantastic to see so many young people benefiting from the MFL Project which demonstrates collaboration between Bangor University and schools across the GwE region."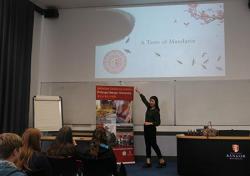 Mandarin Taster SessionPupils attending the ceremony took part in an exciting treasure hunt at the university, and also had an opportunity to experience a taster session of Galician, Mandarin or Sign Language.
Julie Kelsall, Curriculum Leader of Modern Foreign Languages at Argoed High School said: "Our pupils had an excellent time. They especially enjoyed the Galician language lesson and being able to explore Bangor University with their mentor Liam, who did an excellent job. Activities like this really bring languages to life for pupils in Wales and allow them to explore the world from a new and fresh angle."
Gillian Mortlock, Head of Languages at Ysgol Uwchradd Caergybi said: "This great scheme has consistently raised our pupils awareness of the benefits of learning an MFL over the last three years, significantly broadening their horizons."
Ysgol Argoed after their Galician session with Iria Aboi-Ferradas.Bangor University Mentors are fully trained students of the School of Modern Languages and Cultures that have been linked with schools in north Wales all over the year. Students Mentor Emily Carder said:
"The mentoring scheme has provided me with experience in the teaching profession that I could only dream of having at this stage in my life. The chance to stand in front of a group of such talented pupils independently and deliver lessons that I have planned was unbelievably rewarding."
Students Mentor Hannah Jones said: "It was fantastic seeing the mentees again and it was remarkable to note the progress that they have made! It was also good to see the teachers of the schools, without whom the project would not have been as successful."
Publication date: 11 June 2018