Vice Chancellors meet Chinese President Xi Jinping
Vice Chancellor Professor John Hughes attended the 10th Confucius Institute Global Conference held in Shanghai in December, and which was attended by University Vice Chancellors and Presidents from over 100 countries. A Confucius Institute was established in Bangor University in 2012, in partnership with China University of Political Science and Law, Beijing. One of 29 Confucius Institutes in the UK, its remit is to develop Welsh/British and Chinese intercultural exchange in North Wales.
Notable achievements include a wide range of events in communities across north Wales and extensive provision of Mandarin language classes in secondary schools and 'Two Dragons' Cultural Clubs mainly in primary schools, where shared experience and understanding between Wales and China is explored. A recent highlight of the Institute's exciting annual programme was the highly acclaimed Beauty Beyond Words Chinese dance event in Venue Cymru, Llandudno presented by world class Beijing Dance Academy which attracted an audience of 730.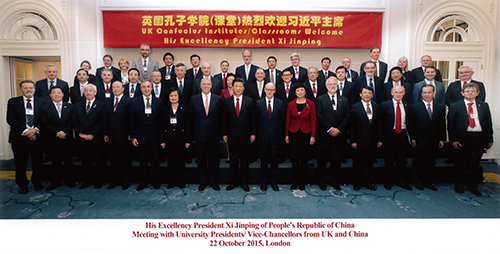 During Chinese President Xi's high profile visit to the UK in November, he arranged to meet with the Vice Chancellors of Universities with Confucius Institutes, signalling the level of importance placed on fostering effective intercultural relationships in the UK and the strategic importance that he placed on the partnerships actively promoted by the Confucius Institutes.
Publication date: 22 October 2015