Wales-China Festival to be held at Pontio, Bangor
A new festival produced and curated by Invertigo Theatre Company and Pontio will take place during the Chinese New Year weekend (16 - 18 February 2018), exploring the creative connection between Wales and China.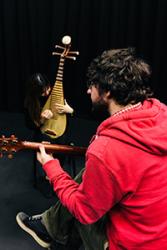 Gareth Bonello and Zining Wang: credit PontioEclectic performances, pop-up events, films, a special Chinese specials menu at Gorad restaurant and family-friendly activities will showcase the cultures, languages and art of both countries. The first of its kind in Wales, this multi-lingual festival provides a platform for British East Asian stories, and enables collaborations between Welsh and Chinese musicians, playwrights and artists.
The Wales-China Festival is supported by lottery funding through the Arts Council of Wales and partners who have worked to bring the whole range of events together include Pontio, Invertigo Theatre Company, the Confucius Institute Bangor, Coleg Menai, Wales Arts International, Bangor University and the Bangor Chinese Student and Scholar Association.
Festival highlights include:
Cabaret Pontio: The Gentle Good performing their award-winning album (Welsh Album of the Year 2014), The Immortal Bard, with local Chinese musician Zining Wang - using Celtic and Chinese folk sounds, to tell the captivating story of 8th century Chinese poet, Li Bai.
An afternoon reading by Francesca Rhydderch from her award-winning novel (and Wales Book of the Year 2014) The Rice Paper Diaries, inspired her family's journey from Hong Kong in 1940 to a coastal village in Wales. Francesca will be joined for a discussion around the novel by Yan Ying, whose Mandarin translation was recently published.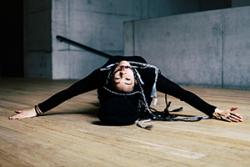 House of Absolute: Image credit Douglas HookHouse of Absolute performing their latest dance piece with live music, Orlando Warrior, exploring hybrid identity through the myth of a modern Mu-Lan and wu-shu martial arts.
Steffan Donnelly adapts Hao Jingfang's play Burglars and Boy (Lladron a Llanc), a strikingly universal take on inequality in our modern society. Hao Jingfang is the first Asian woman to win the Hugo Award in 2016 for her novella Folding Beijing (in competition with Stephen King!). This is the first time a play from China will be performed in Welsh, with English and Mandarin subtitles.
In the immersive sound installation, Connections, hear stories from the local wales-Chinese community, created especially for the Festival with sound designer Jethro Cooke and local photographer Karolina Konior.
The festival will also include a number of free workshops and events in partnernship with Bangor University's Confucius Institute, including a Tai Chi demonstration in Pontio's outdoor performance space, Chinese Music on the bridge next to Gorad restaurant, Chinese Calligraphy Workshops, Beijing Opera Mask Painting, Chinese Tea Ceremony and a colourful Chinese Dragon Dance. Pontio's youth participation programme BLAS will also perform a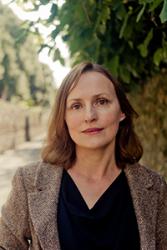 Francesca Rhydderchsite-specific piece inspired by Welsh and Chinese folklore. Wales Arts International will also hold a 'Working in China' workshop for the arts and creative industries.
Visual Art will be in abundance with artists from Coleg Menai's Art Foundation Course responding to the theme, Catrin Davies' animations of the digital screens and the première of the first 'White Wall' large-scale digital projection commission for Pontio's vast white atrium by Ronan Devlin.
The festival will also host a range of specially selected films, including the Disney classic Mulan, the classic love story Mountains May Depart, eye-popping fantasy epic The Great Wall in 3D, a mouth-watering documentary inviting us around Chinese dinner tables A Bite of China and Ai Weiwei's Human Flow, shot across an astonishing 23 countries. All films are £5 entry.
Bangor and the surrounding area has a substantial British-Chinese population, and around 700 Chinese students enroll at the University each year. Bangor University also has its own campus in Changsha City, Hunan. Both the North Wales Chinese Association and Confucius Institute are based in the city.
Steffan Donnelly, Artistic Director of Invertigo Theatre Company said:
"It's an ambitious experiment to throw together different artforms (from dance to digital art), languages (Welsh, Mandarin, English, Cantonese), different ideas and national issues - making them interact under one roof. It'll be informative, a lot of fun, and probably quite surprising. Curating and producing this festival with Pontio, working with the astonishingly talented artists, the open-hearted local communities, and Chinese students at Bangor University, has reminded me of the joy in discovering each other, and the importance of sharing our multi-cultural perspectives. It also made me realise the noise of politics is drowning out people and their realities. Hopefully this festival puts people centre stage."
Elen Ap Robert, Artistic Director of Pontio added:
"At the heart of Pontio's ethos is the bridging between worlds, between cultures and between communities and so it's fitting for us to be co- curating an ambitious, three day China–Wales cultural exchange here. It's particularly exciting to be doing so with the innovative Invertigo, our first ever associate theatre company, in this, the second of our three year partnership. The festival promises to be an entertaining and thought-provoking exchange between two very different cultural entities, and it would be true to say that the whole Pontio Arts team is bringing their particular expertise to the party – in film, digital art, technical creativity and performance participation. We trust there will be something for all – families, students and local community. And through exploring culinary possibilities with the collaboration between our Chinese students and Gorad restaurant there will be authentic Chinese food offer too, central to any Chinese celebration – it may even have a Welsh twist!"
Prof John G. Hughes, Vice Chancellor of Bangor University said:
"I am excited about the establishment of this ambitious new China-Wales Festival with its fresh and bold approach to cultural exchange – it is a very welcome addition to the Pontio offer."
For a full timetable of events, please visit www.pontio.co.uk and the Wales-China microsite, phone 01248 38 28 28 or pick up a brochure from the box office.
Publication date: 12 February 2018