Antarctic Research - 2006
Three scientists from the School of Ocean Sciences sailed aboard the German RV Polarstern for a winter/spring expedition to the sea ice of the Weddell Sea in the Antarctic.
David Thomas, Stathys Papadimitriou and Louiza Norman joined 47 other scientists on the ship, and their role was to study the chemistry and biology of the ice. They were away for 10 weeks, getting back to Bangor on the 30 October. This was the 6th trip to the Antarctic for David, the 2nd for Stathys and the first for Louiza.
As the northern hemisphere moved from summer to autumn, the expedition actually worked during the transition from winter to spring in the Antarctic. Therefore they experienced temperatures as low as -20°C, and unfortunately some significant storm activity.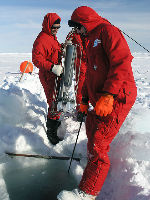 During the expedition the Bangor team sent updates of their progress.