The University's Digital Signal Processing Centre (DSP Centre) recently partnered with Keysight Technologies, a market-leading design, emulation, and test solutions company, to deliver a one-day training seminar on test and measurement techniques for communication systems.
Electronic engineering students, researchers, and local telecommunications companies received technical lectures from Keysight experts, on topics ranging from instrument care and maintenance, to reducing test risk and improving measurement accuracy.
During the day, students got to hear about the career and placement opportunities that Keysight has to offer, and to chat about their studies with the DSP Centre's current Master's, PhD students and post-Doc Researchers. The day also included a tour of the DSP Centre's research and innovation labs, which includes many pieces of Keysight's state-of-the-art test equipment, and live demonstrations of the DSP Centre's digital communications techniques.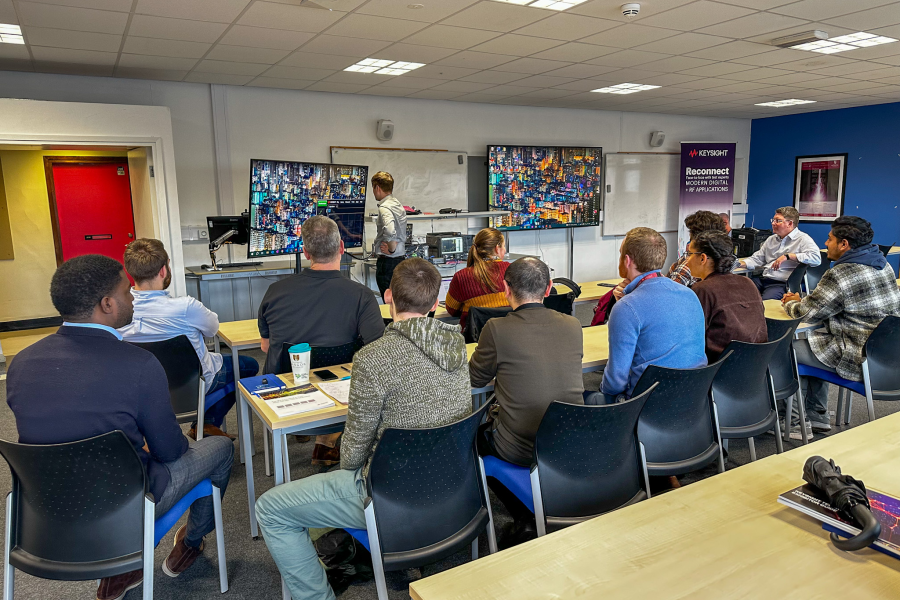 The Training Seminar forms one aspect of the 'Social Value' donation from Keysight, as part of its tender to supply the DSP Centre's North Wales Growth Deal project equipment. The training seminar will be delivered annually for five years and aims to boost local skills and employment, and ultimately contribute to the economic and social wellbeing of the community.
The Seminar was a great opportunity for students to strengthen their knowledge in test and measurement science, and to connect with peers, staff members, and industry professionals. We hope the training will support their studies and strengthen their enthusiasm to pursue a career in communications technologies.
It was a pleasure to collaborate with Keysight to organise and deliver this event, and to showcase the ground-breaking research in DSP-based communications that's taking place here at Bangor University, supported by Keysight's specialist equipment. We're looking forward to continuing this partnership with Keysight to deliver another successful event next year.