Medru and the DSP Centre provide XReality course at Airbus
Bangor University's Digital Signal Processing (DSP) Centre of Excellence team, within the University's School of Computer Sciences and Electronic Engineering, has delivered a new skills course to Airbus employees, as part of the University's new Medru Programme.
Medru – the skills factory is a partnership between Bangor University, Coleg Cambria and the Open University in Wales to provide skills development to local businesses in STEM disciplines and in the first phase, specifically around Industry 4.0.
Dr Panagiotis Ritsos and Dr Peter Butcher from the University's Immersive Environments Lab (IEL), delivered a course on XReality to the world-class development and production team at the largest aeronautics and space company in Europe, Airbus, based in Broughton, North Wales. This course is one of the activities of the DSP College, part of the Digital Signal Processing Centre of Excellence, which delivers training courses and vocational seminars, in addition to postgraduate taught, research, and undergraduate taught programmes. 
The course, delivered over four two-hour sessions, provided an introduction to Virtual, Augmented and Mixed Reality (VR, AR, MR -  collectively called XR), and discussed some of the challenges of these paradigms, along with use-case for the Aerospace sector and presented some of Bangor University's demos in Immersive Analytics. A similar course is offered to MSc level, through the MSc in Advanced Computer Science, where students can take up MSc dissertation work in XR with the School of Computer Science and Electronic Engineering academics.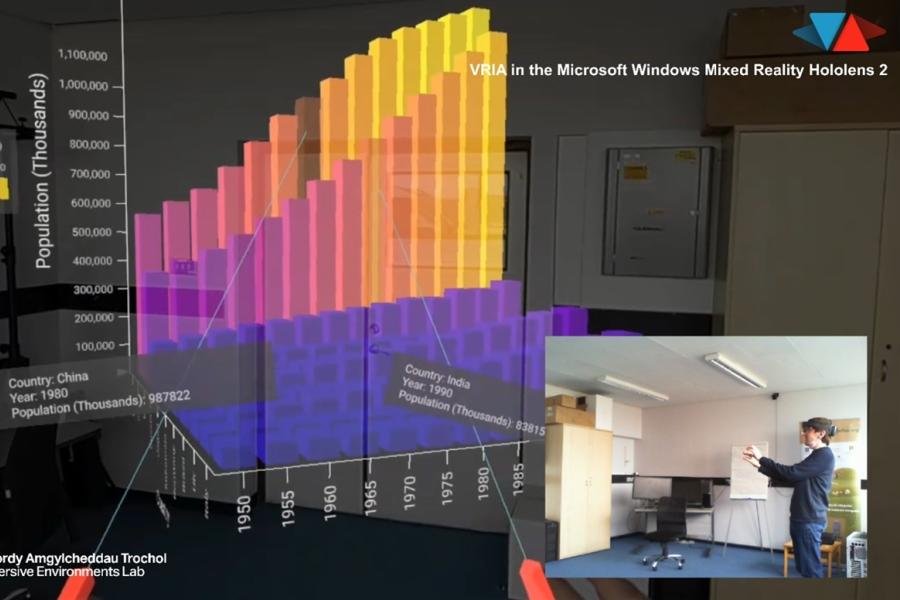 It was a pleasure to deliver this course at Airbus, a company that has had strong interest in using XR technologies in various stages of their operational activities. Airbus has a long history of exploring the use of AR, in particular. With the current interest in concepts such as Digital Twins for training and simulation, we are confident that the course provided a strong foundation that underpins these applications.
The participants were keen to ask very interesting questions, and we got the opportunity to explain how artificial intelligence (AI), future networks such as 5G, and recent advances in human-computer interaction (HCI) interfaces can facilitate further growth into the use of XR in aerospace. It was a pleasure to deliver this course, and we are already looking forward to the next time!
We got the chance to demonstrate some of our cutting-edge prototypes built using Web-based XR, through real-time demos with Microsoft's Mixed Reality HoloLens 2 and our Immersive Analytics framework, VRIA. In addition, participants got the chance to develop some basic prototypes, using an online sandbox and the A-Frame and React-three-fiber Web frameworks. It was exciting to see people pickup these activities and develop something in a single session, assisted by the immediacy of the Web.
Dr Daniel Roberts, Liaison Officer of the School of Computer Science and Electronic Engineering to Medru commented, "Medru offers a great opportunity to work with business to fill a skills gap in industry, at a range of different levels. Learners taking part in Medru courses are preparing for the future of Smart Factories, with XR being identified as an area of interest and development for Airbus. Through real-time demos, learners from Airbus got an opportunity to see how XR technologies, such as Microsoft's HoloLens 2, could enhance the working environment and how using such technologies could aid in manufacturing processes."
Dr Iestyn Pierce, Head of School of Computer Science and Electronic Engineering added "It's great to see the benefits that staff from the school are delivering to industry through the DSP College and Medru."
Prof Jianming Tang, Director of the Digital Signal Processing Centre commented: "The course marks a fantastic start of the DSP Centre's training course series. By fully using the Centre's world-leading expertise in DSP, cutting-edge technical innovations and unique experimental facilities, the DSP Centre is working hard to provide more training courses in the near future to serve the community even better". 
The XR course was very insightful as an Airbus employee. The topics were covered in a way that was suitable for everyone, despite your background/previous knowledge of XR, with interactive elements as well.