Facilities
The School of Ocean Sciences has excellent support facilities for both teaching and research.
These range from:
large, modern, well equipped teaching laboratories to
high tech' research laboratories;
from small inshore research vessels to a 35 metre seagoing research vessel - Prince Madog.
from a local area PC based computer network to powerful number crunching workstations used in numerical ocean modelling;
from photographic and desktop publishing graphics systems to in-house electrical and mechanical workshops capable of designing and building state of the art oceanographic equipment;
from traditional books and journals to the latest electronic library resources (via the Main Science Library in Bangor);
from a filtered seawater supply direct from the Menai Strait to tropical and cool water marine aquaria
RV Prince Madog
The Prince Madog is a state-of-the-art, purpose built research vessel commissioned by Bangor University using a £3.5 million Joint Infrastructure Fund grant and enables the UK's marine scientists to study the biology, chemistry, geology and physics of our seas. 
Laboratories 
There are a number of specialist laboratories on the Menai Bridge site, many of which are connected to a continuous sea water supply. These laboratories cater for radio-tracer work; the rearing of larvae, fish and various tropical organisms; marine chemistry; sedimentology; geotechnics and geophysics; hydrodynamics and the development and maintenance of instrumentation for sea-going programmes in dynamical oceanography and geophysics.
Marine chemistry laboratory
SIRA II Isotope Ratio Mass Spectrometer
GEO 20/20 Isotop Ratio Mass Spectrometer with CAPS (Carbonate Automatic Preparation System)
Sclerochronology laboratory
Marine biogenic carbonates are natural archives of palaeoenvironmental information, and can provide high-resolution proxy records of past and present ocean climate variability. We use growth increment data (sclerochronology) and geochemical information (sclerochemistry) from molluscs and other biogenic carbonates to study modern and ancient ocean environments.
Ultrasonic Doppler Velocimetry is used to measure velocities in unidirectional and bidirectional flows. This method is tailor-made for high suspended sediment concentrations, where other methods fail to collect reliable data.
Hydrodynamics laboratory
The Hydrodynamics Laboratory of the School of Ocean Sciences is an experimental facility for the simulation of water and sediment movements by waves, tides, rivers and density currents. The 'Hydrolab' houses three experimental flumes and a range of instrumentation for measuring flow parameters and water quality.
The largest flume is 10 m long, 0.3 m wide, and 0.5 m deep. Water and sediment are recirculated by a Hidrostal screw centrifugal impeller pump that allows the passage of large solids and handles delicate material with minimum damage. A purposely made pipe system permits the generation of unidirectional, riverine flows and bidirectional tidal flows. The flume has a wave generator that produces regular water surface waves. The wave generator can be combined with the pump to produce combined flows. The flume has also been used to generate particle-laden density currents.
The smallest flume is 2 m long, 0.2m wide, and 0.14 m deep. This flume is particularly useful for studying erosional processes in cohesive and non-cohesive sediment.
An Optical Backscatter probe is used to obtain concentrations of suspended sediment.
Wave gauges are available for measuring the height, length, period and propagation velocity of water surface waves.
Time-lapse cameras provide long time records of morphological change of, for example, sedimentary bedforms.
A high-end digital video camera is available for recording dynamic processes.
What type of research can be done here?
The Hydrolab has been used for a wide range of physical, biological and sedimentological research projects including research on: 
The development of current ripples in biologically and physically cohesive cohesive sand
Turbulence modulation in clay suspension flows
The development of wave ripples in mixtures of sand and clay
The flow of nutrient-rich and nutrient-poor water over mussel seed
The stability of saltmarsh sediment as a function of plant root type, diversity and density
The locomotion of fish
Erosion around scale models of marine engineering structures
Tidal bedform dynamics
Critical bed shear stress of muddy sand
Hydrodynamics and sedimentation of Sabellaria alveolata habitats
Scallop gaping and effects of burial and sedimentation
The effect of bypass flow asymmetry on the tuning of tidal turbines
Fluid-sediment interaction in turbidity currents moving over soft muddy beds
Inshore Research Vessels
The School has several workboats to suit a variety of tasks and sea conditions. This fleet of smaller vessels enables biological, chemical, oceanographic and geological sampling in shallower inshore waters that cannot always be accessed by the Research Vessel Prince Madog.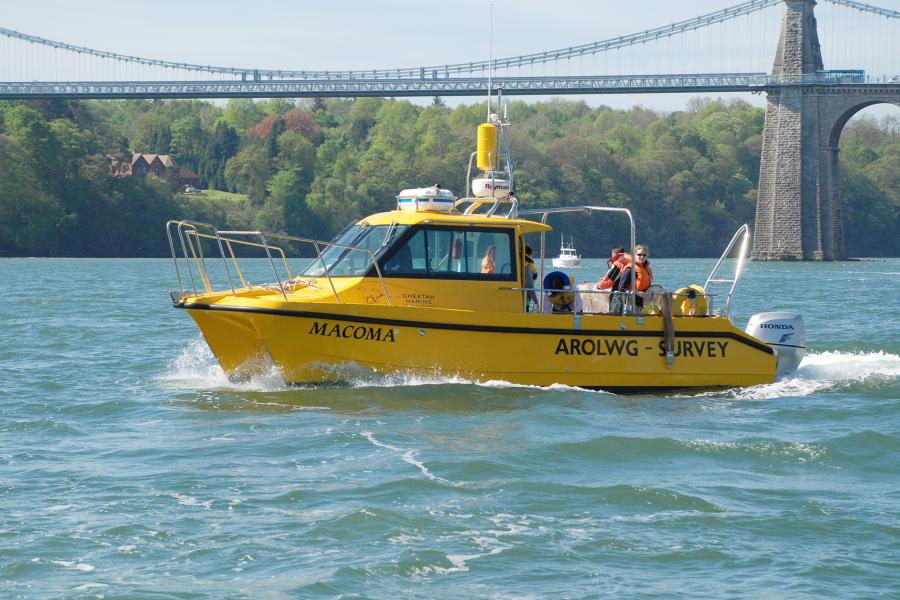 7.9m Cheetah catamaran survey boat, certified to MCA category 3
Reson 7101 (240 kHz) SeaBat Multi-beam system
large cabin for installing other oceanographic equipment
winch, davit and gantry for deploying equipment over the side or stern
small moonpool suitable for installing acoustic transducers for ADCP and multibeam sonar systems
twin 130 H.P. outboard motors -> top speed of 25 knots -> rapid transit to survey sites.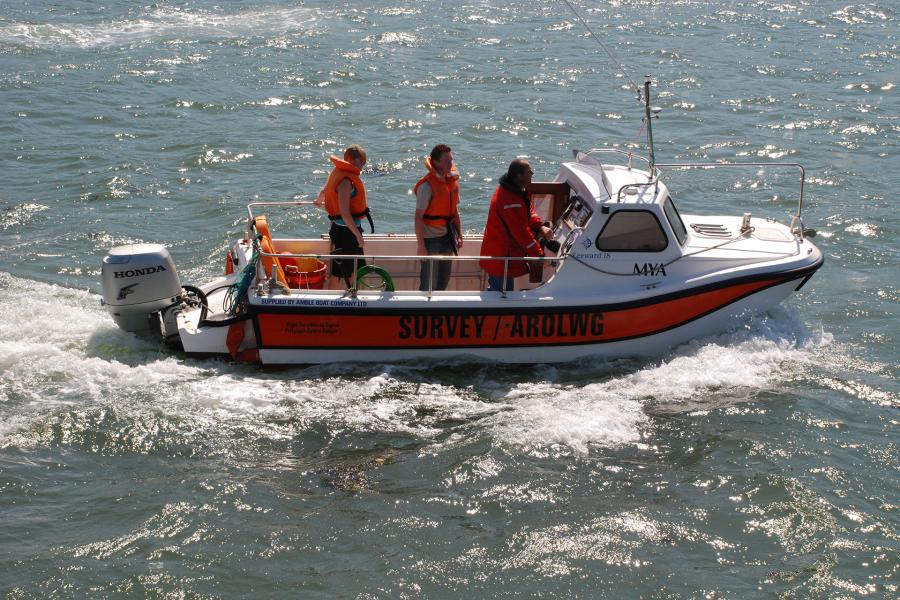 5.5m Leeward 18 survey boat, certified to MCA category 4
small enough to be trailed by road
cabin for installing oceanographic survey equipment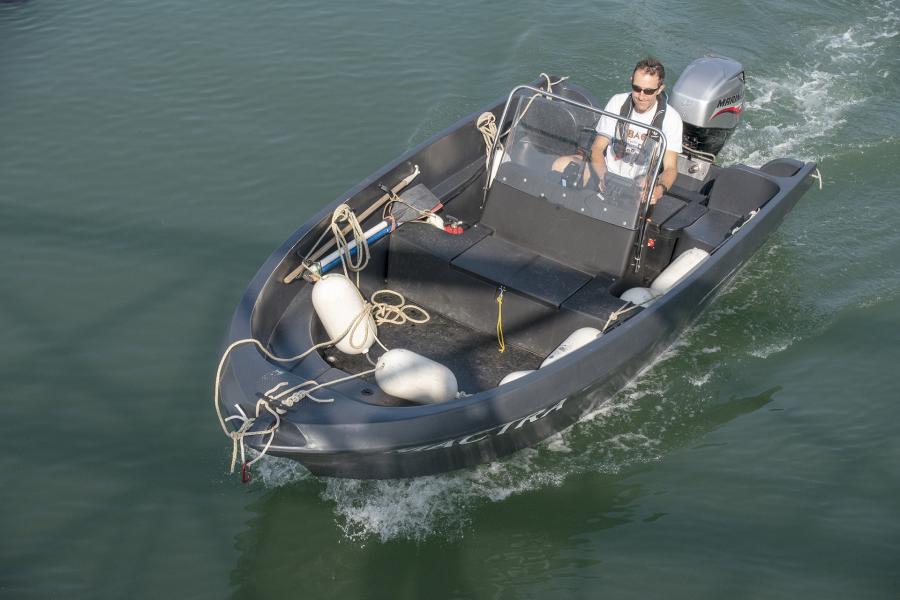 4.2m open workboat
for more sheltered work in estuaries and the Menai Strait