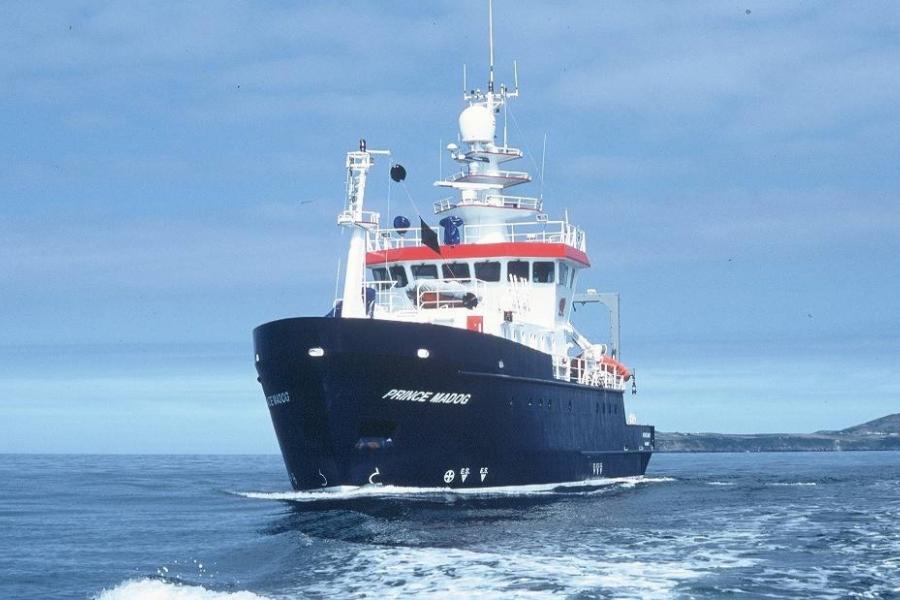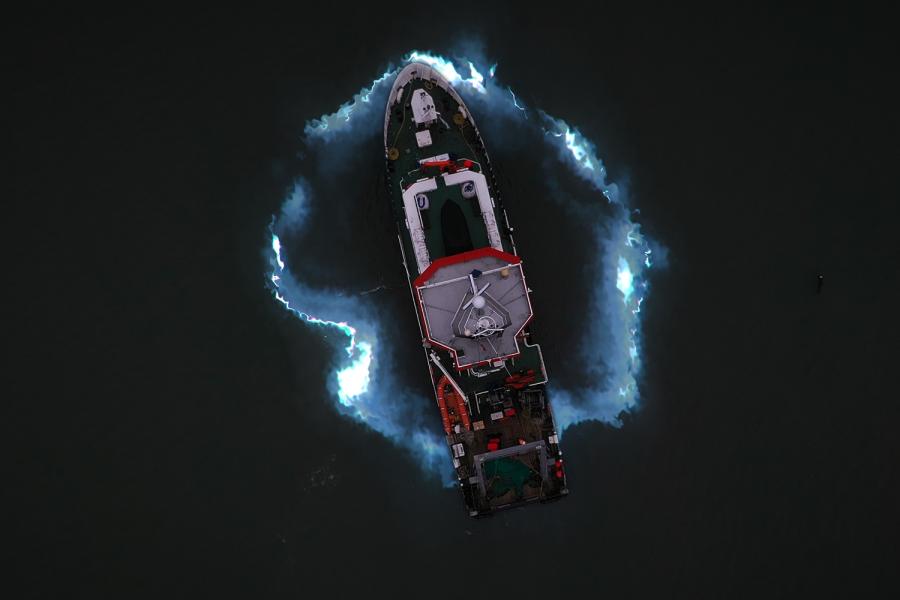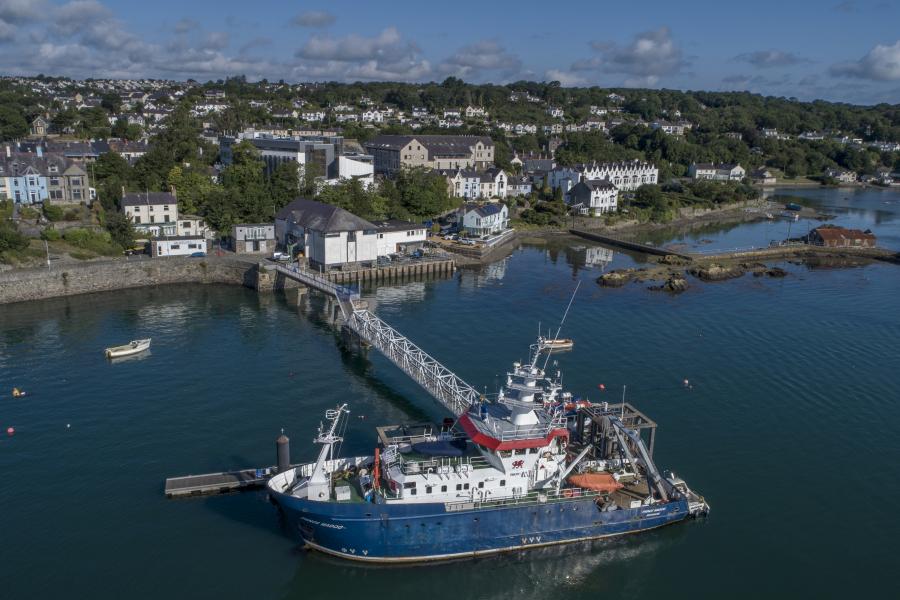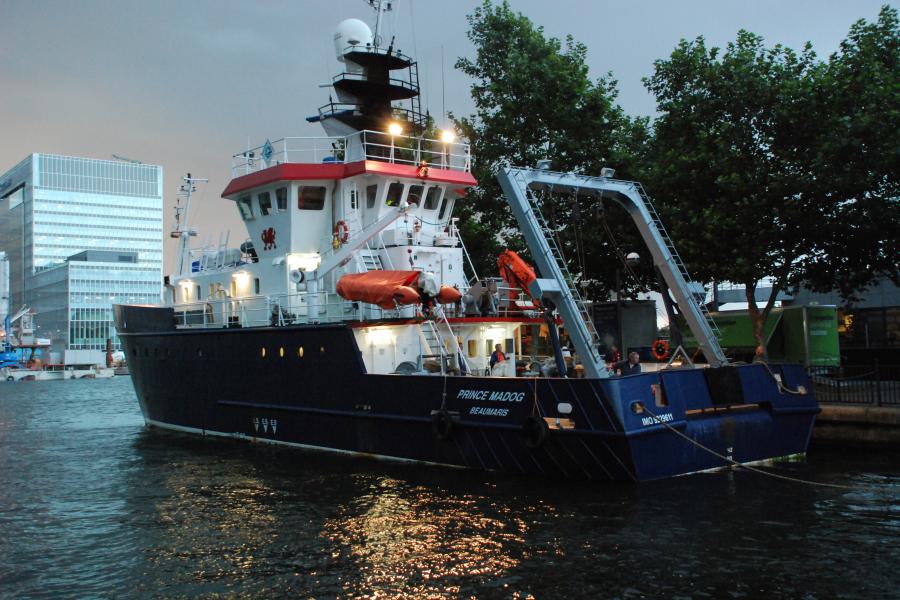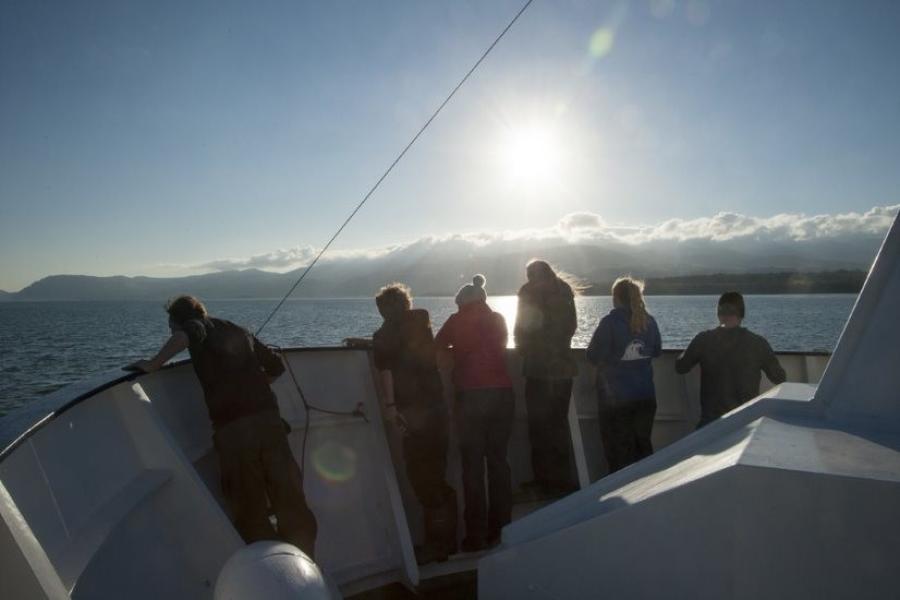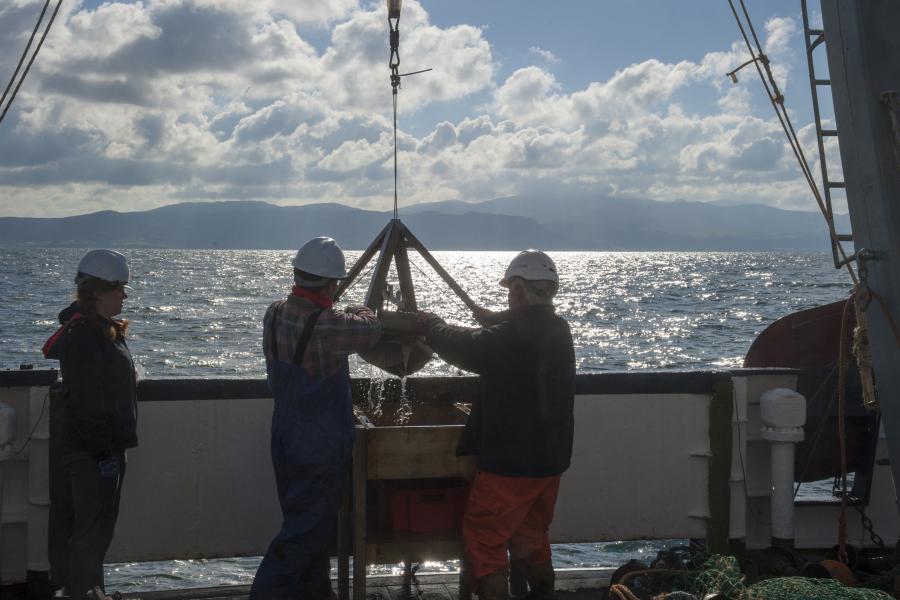 About Prince Madog
Full Details and Specifications
Build Number 3485
Gross Tonnes 390 tonnes
Length Overall 34.9m
Breadth Moulded 8.5m
Draft max 3.5m
Endurance 10 days between ports
Scientific Berths 10
Crew 8
Constructed Visser, 2001
Design Speed 10.5 knots
Actual Speed 12 knots
Propulsion 1080kW
Bow Thruster 150kW
See more about the Prince Madog on the O.S.Energy website.
Reson 7125 dual frequency (200 kHz and 400 kHz) SeaBat Multi-beam system.
Teledyne RD Instruments (RDI) Acoustic Doppler Current Profiling system 300 kHz
Simrad HPR-410P Hydroacoustic Positioning reference system
Simrad EK60 Scientific echosounder 120kHz and 38kHz split beam transducers
Underway sampling and meteorological package
Water purification system
Walker Marine Aquaprobe speedlog
Trimble DGPS 12 channel receiver
Scientific Fridge and Freezer
Seabird SBE 911plus CTD with SBE32 water sampler
CTD cable
1000m Hydrographic winch
According to Welsh legend, Madog was one of the sons of Owain, Prince of Gwynedd (North Wales). On the death of his father in 1170, Madog is supposed to have set sail with a shipload of companions on a westward course. He is reputed to have reached America, left some of his party, returned to Wales for additional compatriots, and repeated the crossing of the Atlantic. As a result of this story the belief grew up that somewhere in North America there existed a tribe of white Indians who spoke perfect Welsh, produced supposedly by the inter-marriage of the original Welsh seafarers and indigenous inhabitants as in Patagonia today.
As for Madog himself, there is no historical proof of his existence. A medieval poem refers to Madog ab Owain Gwynedd as a sailor; and, quite probably, the Welsh Tudors used the story for propaganda purposes to challenge Spanish claims to the New World. Romantically, however, and particularly in view of the maritime traditions of North Wales, it is perhaps fitting that this research vessel should bear the name of Madog, the legendary marine explorer of an earlier age.
The History of our Ships & Other
Telephone +44 (0)1248 382902
Satellite phone: 00870 323523411
Cruises
Other links
Where is the Prince Madog?
Follow the Prince Madog's adventures and see where Bangor University's research vessel is located at this moment in time.