'The future of our oceans' – public lecture at Bangor University by prominent scientist
T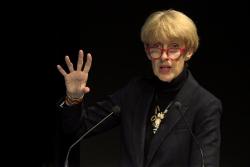 he future of our oceans will be the focus of a public lecture at Bangor University on Wednesday, 4 March. The speaker is Jacqueline McGlade, Professor of Resilience and Sustainable Development at University College London, and an Honorary Fellow of Bangor University. The lecture will take place at 5.30pm in the Eric Sunderland Lecture Theatre of the Main Arts Building. Admission is free, and no tickets are required. All are welcome.
Professor McGlade said: "Recent evidence about the extent of plastics and litter in our oceans has led to grassroots rejection of single-use plastics. Banning them is not enough to safeguard the health of our oceans; what is needed is a complete redesign of global production systems. In this lecture I will outline ways that we can work to 'conserve and sustainably use the oceans, seas and marine resources for sustainable development' (one of the UN's Sustainable Development Goals) in the face of unsustainable consumption and production and the rapidly changing climate."
Jacqueline McGlade is Professor of the Environment at Gresham College. She holds a Chair in the UCL Institute for Global Prosperity and is also Director of the Sekenani Research Centre of the Maasai Mara University in Kenya.
She served as Executive Director of the European Environment Agency from 2003-2013, and from 2014-2017 was Chief Scientist and Director of the Science Division of the United Nations Environment Programme based in Nairobi. She studied at the Universities of Bangor, Guelph (Canada) and Cambridge.
For further information please contact public.lectures@bangor.ac.uk.
Publication date: 19 February 2020