The term Special Collections is used to describe collections of non-print and print material that have characteristics that set them apart from other types of collections. 
An example of a printed special collection is the Owen Pritchard Collection. This collection was created by Dr Owen Pritchard between 1884 and 1920 and presented by him to the University in 1920. The collection is strong in works printed by the private presses of the late nineteenth century and early twentieth centuries.
Click on the named collections below for further details:
ARTHURIAN COLLECTION, INCORPORATING THE FLINTSHIRE, HARRIES COLLECTION

Bangor's excellence and long-standing reputation in Arthurian Studies has been has been built over the last fifty years through the work of leading Arthurian scholars Professor P. J. C. Field, and Professor Raluca Radulescu. Bangor University boasts the only MA in Arthurian Literature in the world, and thus attracts students from countries and continents as diverse as Brazil, Japan, the USA, and Europe.
Flintshire County Libraries kindly donated its Arthurian Collection to Bangor University; where it now is being curated, preserved and managed by the Library and Archives Service.
The collection, which is of major interest to scholars and general readers, was originally donated to Flintshire County Libraries in 1952 by E. R. Harries, a former librarian of the county. Flintshire and Clwyd library services, then added further stock. It now contains over 2,000 items of interest to scholars and general readers alike. This collection enhances Bangor's existing collection, in particular through the addition of further rare books. Scholars who would have previously had to travel to both Mold and Bangor will now find these resources in the same location.
If you wish to see the collection, please contact: s.a.robinson@bangor.ac.uk Tel: 01248 383276
The Brangwyn Collection
The Brangwyn collection consists of approximately 250 books, and 200 prints. The collection includes the personal books of the artist Frank Brangwyn, together with a portfolio of his works, reflecting his personal interests and the influences upon him. There are also a number of prints of the works of other artists. A large number of the books have been presented to Brangwyn and signed by the authors. There are also four works by William Brangwyn (Frank Brangwyn's father) who was an ecclesiastical furniture designer. The collection provides an insight into the art world of the beginning of the 20th century.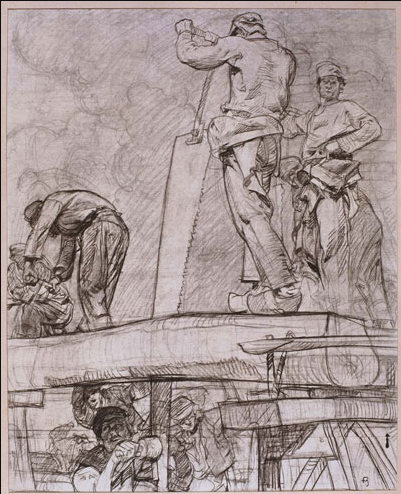 The Cathedral Collection
The collection consists of over 4,500 books of theological or religious content on deposit from Bangor Cathedral, and obtained by us in the face of strong competition from other Welsh Universities. The main character of the Cathedral Library is the wealth of early printed books which is remarkable for its size. 1,100 books were printed before 1700, including four Incunabula, twenty-three Black Letter books, and specimens from most of the famous early Continental presses.
Cerddi Bangor
An unique collection of over two thousand eighteenth and nineteenth century Welsh ballads. A number of these ballads originated from the collection of Myrddin Fardd. The "cerdd" in Wales carried out the function of the modern newspaper for a whole century. As such, it is an invaluable tool for researchers looking into the social history of the time.
For further details consult, J.H. Davies, A Bibliography of Welsh Ballads, 1911
Due to the fragile condition of this collection, Cerddi Bangor are available for consultation on microfilm only.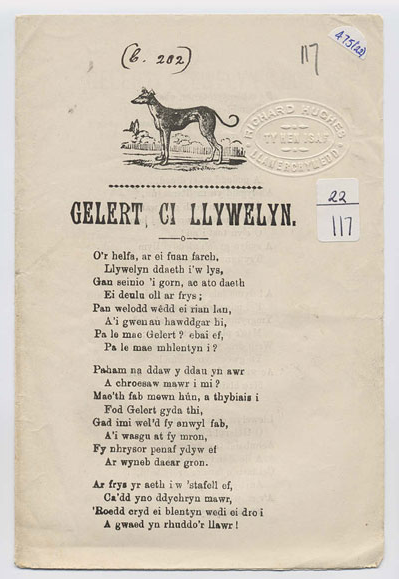 The Climbers' Club Collection
The Climbers' Club was founded in 1898. It is a national club whose objectives are to encourage mountaineering and rock-climbing, and to promote the general interests of mountaineers and the mountain environment. 
The Climber's Club library is a collection of books relating to climbing and mountaineering that was built up during the 1930s, 40s and 50s by club members and was originally held by the Alpine Club.  Despite the collection having been broken up in the 1960's a decision was made during the 1970's to rebuild the library and gather books from various sources held in many locations across the country. 
The newly gathered collection eventually found a home at Plas Y Brenin National Mountain Sports Centre in Capel Curig, but owing to issues of security and storage, was entrusted into the care of Bangor University in 2012.
Gregynog Collection
We have been collecting books by the Gregynog Press for a number of years. The Gregynog Press, founded in 1922, is the only survivor from the "Golden Age" of the British Private Press movement. We continue to collect today. We have in the Welsh Library a copy of their first Welsh publication "Cerddi Ceiriog", 1925. We also hold "Penillion Omar Khayyam", 1928 translated by Sir John Morris Jones late Professor of Welsh here at Bangor.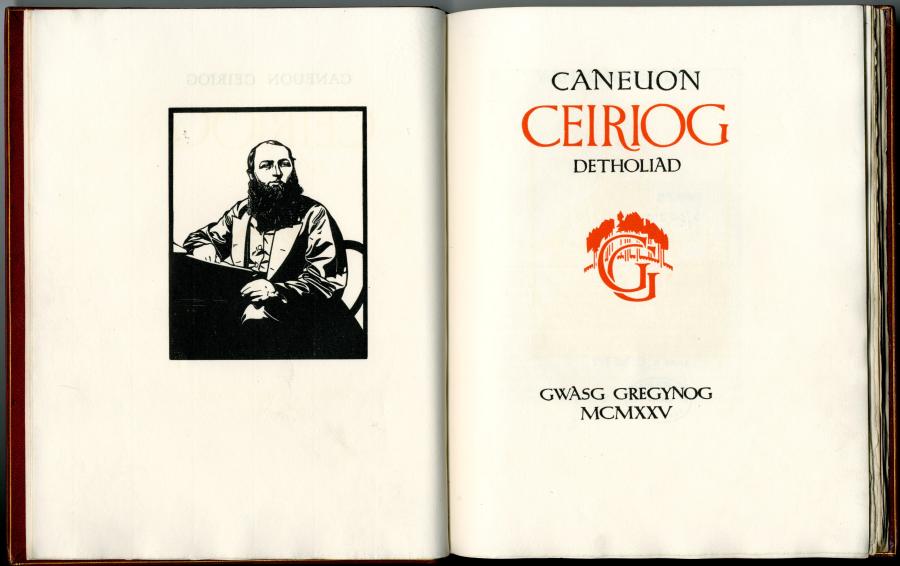 Lady Herbert Lewis Collection
Lady Ruth Herbert Lewis (1871–1946) is best remembered for her pioneering work in collecting and publishing Welsh folk songs and as a key participant in the Welsh Folk-Song Society.  Lady Lewis served as Secretary of the Welsh Folk-Song Society from 1914 to 1924 and Chair from 1927 to 1930, becoming President in 1930 until her death in 1946.
This is her own private collection of books consisting of 182 items on the subject of folk-songs and folk-lore from the early nineteenth to the twentieth century.
The collection was donated to the library by Ruth Facer, Lady Herbert's granddaughter in 2005.
Owen Pritchard Collection
Owen Pritchard Collection
The collection was formed by Dr Owen Pritchard between 1884 and 1920 and presented by him to the college in 1920. The Collection is strong in works printed by the private presses of the late nineteenth century and early twentieth centuries. Amongst this stunning collection are books printed for William Morris including writings, lectures on politics, and reprints of papers relating to the Arts and Crafts movement. The volume, entitled "Love is Enough, or the Freeing of Pharamond", published by Ellis and White, in 1873, is the earliest English edition of the morality play published for Morris in 1872 by Roberts of Boston.
Pinnacle Club Collection
The Pinnacle Club is a UK based club of women climbers whose objectives are to encourage the development of rock climbing and mountaineering amongst women, and bring together those who are interested in these pursuits. In order to further this endeavour, a small library was created for the use of club members.
The library is made up of approximately 350 books and various journals on topics relating to climbing and mountaineering and also representing the history of women climbers which date back to the 1920s.
Owing to the unsuitability of the library's previous location, it was entrusted into the care of Bangor University during the Summer of 2013.
Welsh Bibles
The Library houses a collection of bibles which includes copies of all bibles written in Welsh. Notable amongst this collection are :
Y Beibl Cyssegr-lan, sef Yr Hen Destament, a'r Newydd / (Welsh Bible) A copy of Bishop William Morgan's first full translation of the Bible into Welsh. This translation set the standard for written Welsh.
Testament Newydd ein arglwydd Jesu Christ / (Welsh new Testament). In 1563, the four Welsh Bishops, together with the Bishop of Hereford were instructed to translate the Bible into Welsh by 1566 – an impossible task. However, by 1567, William Salesbury, together with Bishop Richard Davies of St David's and Thomas Huet, the precentor of St. David's had published a translation of the New Testament.
Llyfr y Psalmau (Book of Psalms) Edmund Prys 1544-1623. Steeped in the Welsh bardic tradition, Edmund Prys, then the Archideacon of Merioneth, translated the Psalms into simple and rhythmic Welsh, thus enabling churchgoers to once again be a part of the service. Even today, his psalm features in every denomination's hymn books.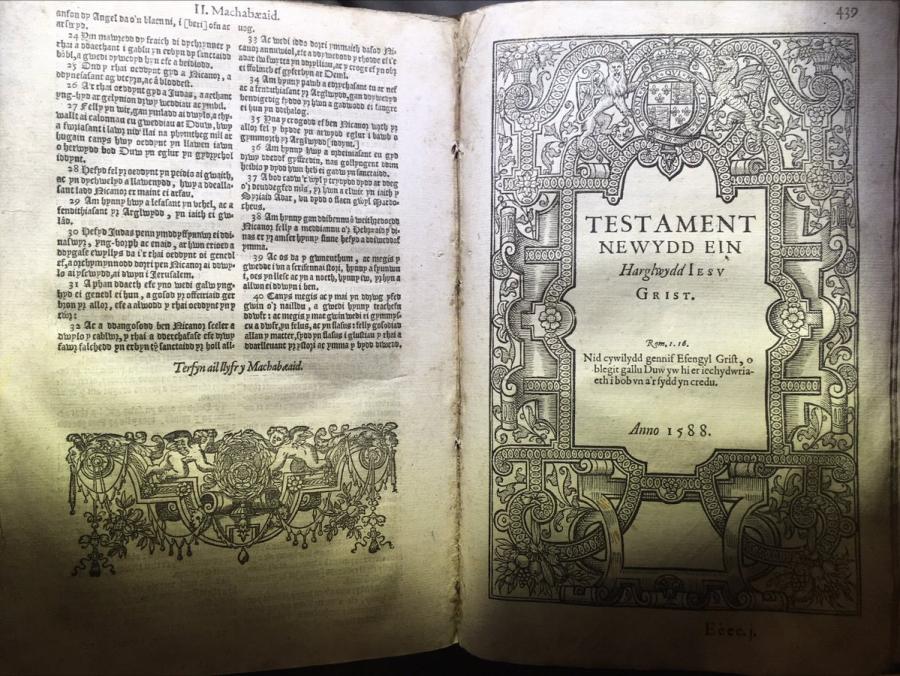 Welsh Children's Literature Collection
Welsh Children's Literature Collection
Housed at the Normal Library, this historical collection consists of children's literature and other Welsh material written for children - fiction, picture books, poetry, drama, factual books, textbooks, reader's series, nursery rhymes and journals.
The collection was acquired by Bangor University by way of donation by:
The Welsh Books Council
Castell Brychan Collection
David Greenslade, Cardiff
St Mary's College
Normal College
Some cataloguing costs were covered by the Eira Mary Davies trust fund.
The collection consists of approximately 11,100 items.
Welsh Newspapers
Newspapers are a priceless source, and one which is used extensively for all types of research, academic or otherwise, for subjects such as local and family history, social history, advertising and sport.  The collection of the Welsh Library at Bangor is one of the most comprehensive in Wales.

Full details of all the newspapers published in Wales or having Welsh links are to be found in 'Adroddiad ar gynllun NEWSPLAN yng Nghymru'. This alphabetical listing of Bangor's holdings contains:
Full title including variations
Date of publishing
Place of publishing
Background notes
Links to the catalogue entry of the holdings at Bangor
Searching the Library Catalogue for Rare Books and Printed Special Collections Video Guide
Searching the Library Catalogue for Rare Books and Printed Special Collections Video Transcript
This is a short video on how to search the library's online catalogue to discover rare books and items from our printed special collections.
The simplest way to search the catalogue is to type a search term into the search box. You will see that as you type, search scope options appear beneath the search box.  The search scopes determine what materials will appear in your results, so as we're searching for physical items within Bangor University's collections, you should select the BU Library Collections search scope.
Once you have typed in your search terms and selected BU Library Collections search scope, the catalogue will search for items that match your criteria. Here we can see that the catalogue has returned 24 items.
You can filter your results to just include items from our printed special collections by selecting Archives, under the library filter options on the right hand of the screen.
You may find that the catalogue offers an 'and other locations' link, if you click on that you may find that a borrowable copy is available in the library which may be more convenient for you to use. We can see here that there is one copy available in the Archives as a rare book, but another copy is held in the Welsh Library and can be borrowed.
There are other filters that you can use if you are returning too many results, for example, you can set a date range by typing in your dates under the publication date filter, and then clicking refine. If you're receiving too few results, try changing your search terms perhaps try the Welsh and anglicised spellings. For example, searching for Carnarvon Castle brings up different search results (227 here) to those if you search for Caernarfon Castle (105 results).
Clicking on a book's title will give you more details about that book such as publication details and the physical characteristics, pages, size etc.
Once you've found the item that you would like to see, make a note of the author, title and publication date, if available, and the call number. Email these to archives@bangor.ac.uk with a preferred date that you would like to come and view the item, and a member of our team will be in touch with you shortly to confirm.
I hope you've found this video useful, if you have any queries or concerns, please email us at archives@bangor.ac.uk