Bangor Celebrates Chinese New Year 2017
This year, Bangor celebrates Chinese New Year – Year of the Rooster – with a Chinese dragon parade and gala on Saturday 4 February, organised by Bangor University's Confucius Institute.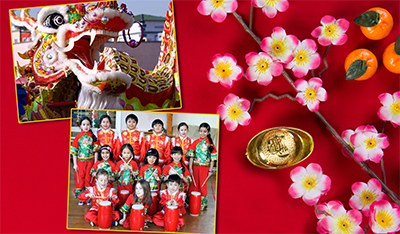 Performers from the Confucius Institutes at Bangor University and London South Bank University will join pupils from Our Lady's School for a vibrant display of Chinese culture throughout the afternoon. A Chinese dragon, 15 metres long, will wind its way down the High Street, accompanied by costumed dancers and drummers. This will be followed by a gala to celebrate Chinese New Year, featuring Chinese song and dance, instrumental pieces and a special Chinese/Welsh duet of Ar Hyd y Nos (All Through the Night).
Special guests on the day include Mayor of the City, Councillor Dewi Williams, and local actress Angharad Rhodes, best known for her leading role in the CBeebies television series Melody. 13-year-old Angharad, who will be introducing some of the performances, is currently learning Mandarin with the Confucius Institute:
"It's great to be involved with such a fun and colourful event." she said.
"I've been learning Chinese for two years now, and experiencing Chinese culture firsthand like this really helps me to understand the language and the people better. This is a great event for bringing everyone together and learning more about the world."
The dragon parade will leave Bangor Cathedral at 12pm and make its way along the High Street to the Town Clock, where the gala will take place on stage from 12.30pm until 2pm.
More information about the event can be found here.
Publication date: 24 January 2017