Chinese Kites return to Treborth
An annual Chinese Kite Workshop, organised by Bangor University's Confucius Institute, is set to take Treborth Botanic Garden by storm again this year on Saturday 30th May, promising a colourful afternoon of family fun in Treborth's beautiful grounds.
This is the second time the Confucius Institute has brought the Kite Workshop to Treborth, following on from last year's highly successful event, which attracted over 400 people in the first two hours alone. A spokesperson from Bangor University's Confucius Institute said:
"Painting and flying Chinese kites is a fun and accessible way to introduce people to Chinese culture. Last year's event was a great success and we were delighted that so many people came to Treborth to enjoy it. These workshops are a great way to bring the community together and learn something new."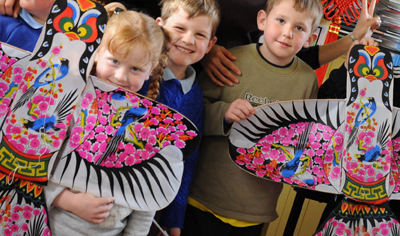 The Confucius Institute is currently working closely with Treborth and its project partner in China (Xishuangbanna Tropical Botanic Garden) to develop a Chinese garden on site, making Treborth the logical setting for this year's event.
"We are delighted to be able to host the Chinese Kite Workshop here for a second time…" said Sophie Williams, a Lecturer at the garden and at the University's School of Environment, Natural Resources & Geography.
"...Bringing people together to learn and enjoy Treborth is central to our work, and holding the Kite Workshop here is an ideal opportunity to realise both of those things. Celebrating Chinese culture with our local community is an essential part of our Two Dragons Garden Project, and we are very pleased to be working with the Confucius Institute to bring this event to the public."
The Chinese Kite Workshop is open to all ages and abilities and will take place at Bangor's Treborth Botanic Garden on Saturday 30th May from 11am-3pm. Entry to the site and parking is free, with a charge of £4 per kite for those taking part. Visitors are invited to bring their own kites and packed lunches to eat in the grounds. An exhibition of Chinese Botanical Art will also be open on the day (free to all visitors), and the Friends of Treborth will be on hand to give guided tours of the garden throughout the day.
Publication date: 20 May 2015