New Year visit to Mervyn Rowe's exhibition at MOMA Wales, Macynlleth
On Wednesday 18th February, a party from Bangor University's Confucius Institute travelled down to MOMA Wales in Macynlleth to host a special evening reception, celebrating both Chinese New Year and the end of another successful exhibition by Barmouth-based artist Mervyn Rowe.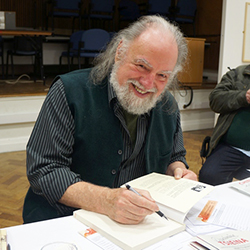 Last year, the Confucius Institute in Bangor staged two exhibitions of Mervyn's China Sketchbook drawings at the university, and this latest show at MOMA has proved just as successful.
Established to promote Chinese language and culture, there are now over 400 Confucius Institutes worldwide; 24 in the UK and three in Wales at universities in Bangor, Lampeter and Cardiff. The Institute supports Chinese culture in all its forms and, in Bangor, the cultural exchange between Wales and China is central to the Institute's work.
Dr. David Joyner, Director of Bangor University's Institute said:
"We are delighted to be able to host this reception to celebrate Mervyn Rowe's work a year on. This is a rare opportunity to see a beautiful and thought-provoking exhibition, which not only celebrates Chinese culture here in Wales, but makes us think about the disappearing traditions on our own doorsteps."
Guests were invited to celebrate the exhibition – and the start of Chinese New Year – with a special evening viewing accompanied by Chinese music. Jin Xi, a teacher at Bangor's Confucius Institute performed songs in Chinese alongside her husband Zhao Hangyu on violin and music student Zhang Zi Wen on pipa (Chinese lute).
Publication date: 24 February 2015