Advocating for Children's Rights @lleisiaubach
On Thursday the School of Education and Human Development hosted the Little Voices/Lleisiau Bach training day for practitioners, organised by Arwyn Roberts (Bangor) and Helen Dale (Swansea).
Lleisiau Bach Little Voices is the approach used by the Wales Observatory on Human Rights of Children and Young People to empower children as researchers and as advocates to help embed human rights in children's everyday places and to enable age-inclusive co-production of change. The Observatory is an initiative based at Swansea and Bangor Universities, working with a wide range of partners and disciplines to help ensure that the human rights of children and young people are respected, protected and fulfilled.
Two of our students, Claire Hodgkinson and Celyne Rathod, from the BA Childhood & Youth Studies did a fantastic presentation about their observations and evaluation of a Little Voices project for their final year dissertation.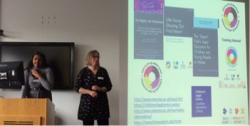 Publication date: 10 May 2019