MPhil Scholarship for top childhood studies graduate
Eleanor Morsman who graduated from Bangor University's School of Education in July with first class honours in childhood studies and was jointly awarded the Gowbr Cronfa Normal Prize for the student with the highest marks in education has just been awarded a scholarship to study for an MPhil on 'The Best Model of Pedagogy for Initial Teacher Education and Training in the Primary Education sector'.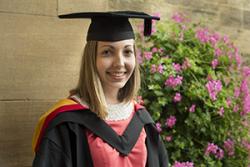 Ellie Morsman at her recent graduation.Ellie said:
"I am so excited to undertake the MPhil scholarship within the School of Education. I feel honoured to have the opportunity to contribute to the improvement of ITT provision in Wales, as it is an important factor in improving children's educational outcomes and future life opportunities.
I really enjoyed carrying out my dissertation research on Child Bilingualism during my Childhood Studies BA course, which has motivated me to continue with research at a postgraduate level.
I am thrilled to be staying on at Bangor's stimulating School of Education, as I have loved my time in the department so far. The department's friendly-feel and supportive staff helped me to thrive as an undergraduate student, and I was particularly delighted to receive the Normal Fund Prize after my graduation ceremony."
Ellie will be jointly supervised by the School's Director of Research, Dr Jean Ware, and Bryn Jones co-author of a study: '100 Bilingual Lessons: Distributing two languages in classrooms'.
Ellie will be regularly updating Initial Teacher Education Training (ITT) course staff on the progress of her work, in order to ensure that it has immediate impact.
Dr Jean Ware said "Our ITT provision has recently received excellent student satisfaction ratings, but there is always room for improvement and we are delighted that Ellie will be working with us on this important project."
Publication date: 15 August 2014