Primary Education students get to grips with Chinese culture
First year students on the BA Primary Education programme have been given a unique introduction to Chinese culture, thanks to Bangor University's Confucius Institute.
To mark the beginning of the Chinese New Year, students attended practical workshops on Chinese art, cooking, music and dance led by Confucius Institute staff. The aim of the sessions was to familiarise students with Chinese traditions and to encourage them to utilise this new-found knowledge in their future teaching careers.
"Our students have a duty to provide their pupils with culturally diverse experiences that will, potentially, improve and enrich teaching", commented Elin Williams, Lecturer in Education (Early Years). "Not only did this one-day workshop help develop the students' understanding of education for sustainable development and worldwide citizenship, but it also equipped them to share good practice during their school experience."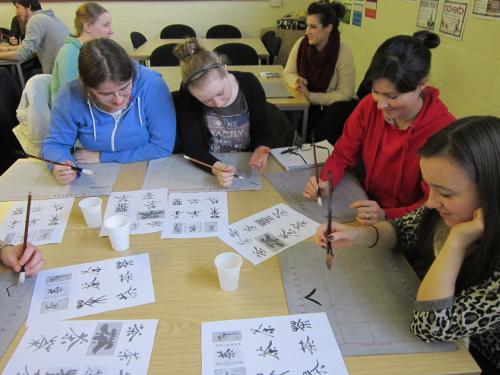 Students try out Chinese calligraphy during the cultural workshop
Publication date: 7 March 2014