Primary Education students prepare for Ghana visit
Two Bangor University students are appealing for donations in advance of their trip to volunteer in Ghana.
Alice Jones, 22, from Leek in Staffordshire and Paige Nicholas, 21, from Presteigne in Powys, who are studying Primary Education with QTS, are asking people to donate children's items to take with them to Ghana.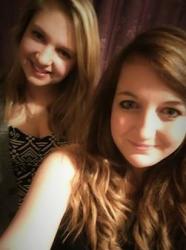 Alice said, "We have made an appeal for stationery, toiletries and fun things to give to the children e.g. toys, games. We have received lots of clothes to take over with us, but items like skipping ropes, colouring pencils and educational aids are always needed out there and will be gratefully received by the children."
The volunteering programme in Ghana, which is organised by Plan My Gap Year (PMGY) aims to actualise long-term sustainable goals by working with local communities. The students will take part in the English Teaching programme and Orphanage Programme.
Alice, who is in her third year at Bangor, said that they are travelling to Ghana after completing their final exams in the summer.
"We are going to Ghana for a month in June, and back just in time for graduation! We originally wanted to stay longer, but didn't want to miss graduation.
"Paige and I wanted to volunteer somewhere that we thought our impact would make a real difference. We looked at different countries, but after talking to volunteers and after lots of research we chose Ghana.
"As we have volunteered in different schools in the UK, it will be refreshing to see the difference in the daily running of the school!"
The Primary Education students will travel together, but will meet other volunteers in Ghana.
Alice said, "We are staying in a volunteer house in Kumasi, where there will be different volunteer programmes running at the same time, so it'll be interesting to talk to everyone and see what they have experienced.
"In the classrooms, we are going to start with support of the teacher. We will be learning about the class and the strategies they use, but will then move on to teaching the class alone or with another volunteer.
"We have already received a lot of donations and are very grateful to everyone who has supported us already. Additional stationery and small toys that would fit in my suitcase will be warmly welcomed."
Following their return back to the UK, Alice and Paige will be looking for their first teaching jobs.
If you'd like to donate items for the Ghana trip, visit Alice and Paige wish list page or email Alice: alicejones93@hotmail.com


Publication date: 11 April 2016